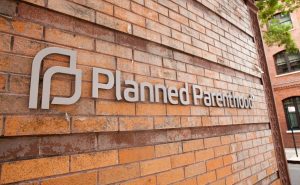 Planned Parenthood is certainly going all in on 2016 — and Donald Trump is the abortion lobby's clear enemy number one.
Fresh off of their most recent victory in Congress, where they successfully forced Republicans to back down yet again from opposition to federal funding for Planned Parenthood, the pro-abortion behemoth is now finalizing plans on an extensive campaign to derail any chances of a GOP victory in November:
In all, the group plans to spend $30 million to sway the 2016 election, double its spending in 2012. It's working to reach 3 million voters to tip races to Democrats in North Carolina and five other battlegrounds: New Hampshire, Nevada, Wisconsin, Pennsylvania and Ohio.

The group has 800 paid staffers and another 3,500 volunteers on the ground, with the goal of talking to 2 million voters through door-to-door canvassing, said Deirdre Schifeling, the group's executive director. The budget and activist force make Planned Parenthood's push one of the biggest door-to-door operations undertaken by an outside political group this cycle.

Schifeling said activists already have knocked on about 800,000 doors and found that about 30% of the voters they talk to are undecided in the presidential contest between Democrat Hillary Clinton and Republican Donald Trump.
In addition to their ground game, Planned Parenthood is also spending big on advertising to influence the race, with two new ads being released this week alone.
The first, which Planned Parenthood's super PAC is airing in three key swing states in conjunction with the pro-Hillary Clinton Priorities USA Action super PAC, pushes the message that Donald Trump is "too dangerous for women":
Following Tuesday night's debate, Planned Parenthood also released an ad touting Tim Kaine's remarks in support of abortion, preceded by the message "We couldn't have said this better ourselves":
During the first presidential debate, neither Trump nor Clinton were asked to expound upon their abortion views. We will see if that changes on Sunday.
Paul Dupont is the managing editor for ThePulse2016.com.