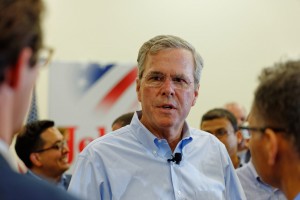 Jeb Bush is disgruntled. The grand Common Core edifice is crumbling around him, and he can do little other than lash out at the people responsible. He did so last week in a forum held at the Harvard Graduate School of Education, where he has spent several weeks co-teaching a class on education reform.
During the 93-minute conversation, Bush advocated a number of reform-y ideas, such as school choice (the tax money should follow the child), digital learning (technology should be "integral to the learning experience"), expanded preschool (with training for teachers to handle "every interaction with a four-year-old"), and competency-based training (as opposed to genuine liberal-arts education). But nothing engaged his emotions — primarily anger and frustration — more than discussion of the politics of the Common Core national standards.
When asked about his support for Common Core, Bush doggedly repeated and expanded on his mantra: "I'm for higher standards. High standards, assessed faithfully, will yield college- and/or career-readiness after 12th grade." He didn't explain why the Common Core standards are "higher," but then he never has.
Interestingly, Bush also admitted that the pre-Common Core Massachusetts standards were "probably" higher than Common Core: "I'm not sure why Massachusetts had to change — that was their decision." If Bush really isn't sure why Massachusetts ditched its superior standards for Common Core, he's the only one in the education universe who is still puzzling over that one. A federal payout of $250 million can be a powerful inducement.
Speaking of federal bribery, Bush was asked if the Obama administration made a mistake and made his life more difficult by incentivizing states to adopt Common Core. "Yeah, damn right it did," he muttered, concealing the fact that he seemed perfectly happy with the administration's scheme until the politics went south. But he was defiant: regardless of the administration's "mistakes," "I'm not going to abandon my support for higher standards."
This led to a broader discussion of the education-reform debate that Bush and his Foundation for Excellence in Education are attempting to lead. Here, Bush's frustration came to the fore. Admitting that the education-reform movement he promotes is "fraying," Bush blamed a "reactionary kind of environment" in which accountability is endangered and everything is pushed back to the local level (he apparently considers local control a bad thing if the locals reject his advice).
Bush scoffed at claims that "moneyed interests" are benefiting from education policies such as extensive testing (he said Pearson is "losing their shirt" on testing). He similarly rejected evidence that "Gates is funding companies" or other entities to profit from education reform (no one asked him about the hundreds of millions Bill Gates has spent on the Common Core scheme to ensure implementation of his preferred policies). Throwing his hands up in apparent dismay, Bush was aghast that "all this stuff is just swirling around." Where could it have come from?
Toward the end of this discussion, Bush said something that raised echoes of Obama's bitter-clingers statement from his first presidential campaign. At that time, Obama said many people in flyover country cling to their religion and guns because of their fears and frustrations. For his part, Bush suggested the parents and other constitutionalist citizens who have opposed Common Core are "fearful of all this change [and] feeling threatened."
Is it not possible for elites, on either the left or the right, to engage an argument on its own terms rather than dismiss its proponents with amateur psychology? Millions of Americans don't want what Bush and Gates are selling because they have decided it's bad for their children and their country. Until members of the elite education establishment recognize and address this evidence-based decision, they will be the ones struggling with frustrations — as Mr. Bush clearly is.
Jane Robbins is an attorney and a senior fellow with the American Principles Project.