The Republican establishment still doesn't get it.
Donald Trump defeated more than a dozen mainstream Republicans in the 2016 presidential primary with a message of America First. He called out the Iraq War, promised to bring troops home from the Middle East, criticized the outsourcing of American jobs to foreign workers, and vowed to return power to the American people.
The establishment, which has always been content to move leftward on social issues, has refused to budge on more war, free trade, increased immigration, and corporate bailouts. Their latest hope in returning to their glory days of the Bush era is in former South Carolina Governor Nikki Haley.
Born in South Carolina to immigrants from India, Haley was a businesswoman before she was a politician. She served in the South Carolina House of Representatives for six years prior to winning the governorship in 2010. During the 2016 campaign, Haley took a strong stand against then-candidate Trump, initially backing Senator Marco Rubio. "Reject the siren call of the angriest voices," she told Republican voters.
Despite her initial rejection of the America First mentality, she supported President Trump in the general election, and he returned the favor, appointing her Ambassador to the United Nations.
Having failed to thwart President Trump's electoral victory, many in the Republican establishment feigned tepid support for the him with an eye toward infiltrating his administration to push for their preferred positions. They also set their sights on 2024: Nikki Haley was the chosen one.
In a media environment that sees the left fully embracing identity politics, many on the right foolishly believe they can counter this by promoting their own female or minority champions. Haley fits the bill, being a woman of Indian ethnicity.
But the eagerness of the NeverTrump caucus for a Haley campaign stems more from a desire to return to the failed Republican policies of the past. "Nikki Haley… is basically my spirit animal," said conservative commentator and longtime President Trump critic Ben Shapiro.
For several years now, rumors based on "anonymous sources" have been circulating, suggesting President Trump would replace Vice President Mike Pence on the 2020 ticket with Nikki Haley. Such a move would set her up for a 2024 run whether President Trump wins or loses.
Ben Shapiro's Daily Wire website amplified such rumors as far back as 2018, insisting "perhaps it may be time for Pence to consider his retirement."
To her credit, Haley herself emphatically denied the confected scuttlebutt, but to this day they continue to circulate.
Is establishment "conservative" media reporting the news, or trying to create it? 
More than 60 million Americans voted for President Trump precisely because he represented a break with the Republican policies of the past. Commentators such as Shapiro seem willfully blind to this new reality and party.
Nikki Haley's positions are at odds with the desires of right-leaning American voters, as expressed in their 2016 vote. 
While President Trump campaigned on peace with Russia, Haley has said: "We don't trust Russia; we don't trust Putin; we never will. They're never going to be our friend. That's just a fact."
In April of 2018, Haley drew the ire of the president when she preemptively announced new sanctions against Russia before President Trump had officially authorized them.
While candidate Trump campaigned on border enforcement, stronger restrictions on legal immigration, and a refugee moratorium, Haley champions corporate-backed pushes for more immigration: "No one who is willing to work hard, abide by our laws, and love our traditions should ever feel unwelcome in this country." She's also a purveyor of the left's foolish "nation of immigrants" platitude; in fact, she's "proud of it."
While President Trump has used tariffs to protect American manufacturing and even the playing field with subversive foreign nations, Haley is a free trade stalwart.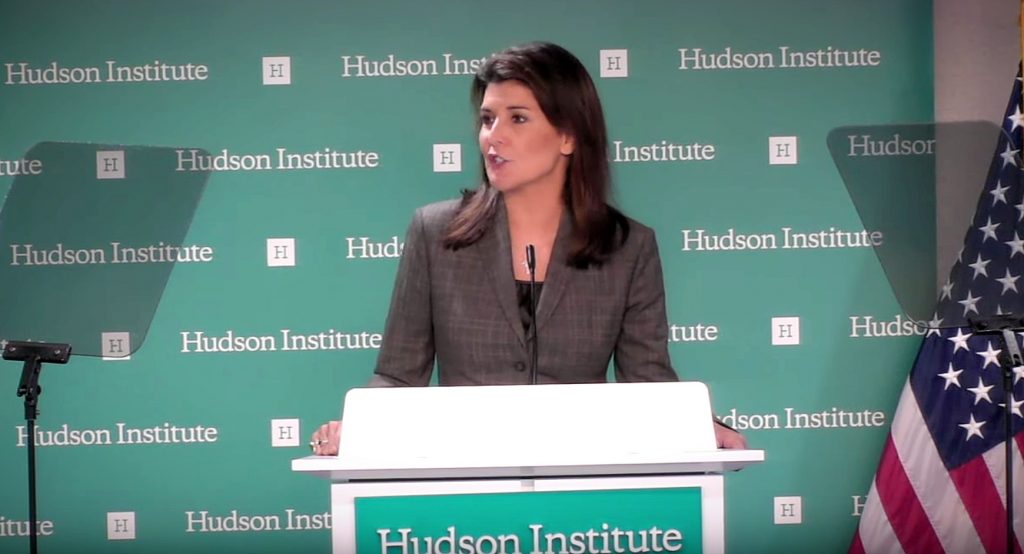 While President Trump has asked American companies to "hire American and buy American," Haley has supported removing barriers to outsourcing.
When thousands of Americans were losing their jobs so companies could hire foreigners at lower wages, she wanted to broaden H1B visa programs for Indian tech workers: "There's a lot of talent in India and that talent when they come here and they get educated here, it's the first talent we want to see be able to join our forces and work for our companies."
However, Haley gained a reputation for being friendly to businesses during her time as governor. When Boeing faced mounting expenses at their Washington state manufacturing plant due to union agitation and state regulations, Haley offered incentives for them to bring construction of the new 787 Dreamliner aircraft to South Carolina.
After stepping down from the Trump Administration in 2018, she quickly found a home on Boeing's board of directors.
Recently, she resigned, saying she disagreed with Boeing's push for a bailout in the wake of the coronavirus stock market crash. While commendable, she did not seem to have a problem with Boeing's recent outsourcing of manufacturing that drew sharp attention after the company endured several high-profile aircraft failures.
In short, Nikki Haley is another establishment Republican in the mold of Jeb Bush, whom voters soundly rejected in 2016. America is hungry for an alternative to the same old politics of foreign wars, free trade, and open borders.
Young people are increasingly turning to socialism, and the only way to counter that is by offering a message that puts America and American workers first, not the war industry or the cheap foreign worker lobbies.
As much as establishment conservatives salivate over a Nikki Haley campaign, she would prove disastrous for the Republican Party and for America.