News outlet Voice of America (VOA) is carrying water for the Chinese Communist Party (CCP) with their novel coronavirus coverage, and American taxpayers are footing the bill. 
The 1,000-person multimedia operation which "principally serves foreign audiences, with radio and television broadcasts reaching 236.6 million people worldwide in 47 languages" has an operating budget of nearly $220,000,000, entirely tax payer-funded. And with that sizable war chest, despite VOA's intended job of forging US global media presence, its coronavirus reporting shows its loyalties lie elsewhere: China.
This dubious relationship predates the coronavirus crisis and has caught the attention of the Trump administration which recently declared: "VOA too often speaks for America's adversaries—not its citizens. Journalists should report the facts, but VOA has instead amplified Beijing's propaganda."
Voice of America Parrots Chinese Propaganda At American Taxpayer Expense https://t.co/Q1v32TjlVb

— Raheem J. Kassam (@RaheemKassam) April 13, 2020
According to VOA staff, one of the company's television editors even "publicly pledged his allegiance to China at an embassy event." Ignore the buried lede that "VOA personalities have hosted events at the [Chinese] embassy [in Washington]" according to reports.
Its director, Obama-era appointee Amanda Bennett, has also taken a page out of the CCP's media playbook, censoring an exclusive interview with CCP whistleblower Guo Wengui and firing or disciplining the journalists who wanted run the clips in full.
And company insiders added that VOA's Mandarin service has "a pattern of avoiding stories that could be perceived to be too tough on China," a bias on full display in light of coronavirus.
They've used the CCP's coronavirus data without questioning the validity of the sham numbers, even creating snappy graphics and social media posts to amplify the reach.
In other words, they're co-conspirators in the CCP's elaborate propaganda scheme, made possible by your tax dollars.
A few examples of the graphics are below:
And the articles run by the site toe the same CCP line. In an article "China Objects to Trump's 'Chinese Virus' Tweet," they provided no rationale as to why that label would make sense and instead only cited officials who disagreed with President Trump, including Chinese Foreign Ministry spokesman.
This is not an isolated incident.
Similarly biased and blatantly false coverage was also visible during the pro-democracy Hong Kong protests in 2019. The caption of the picture below indistinguishably parrots CCP propaganda: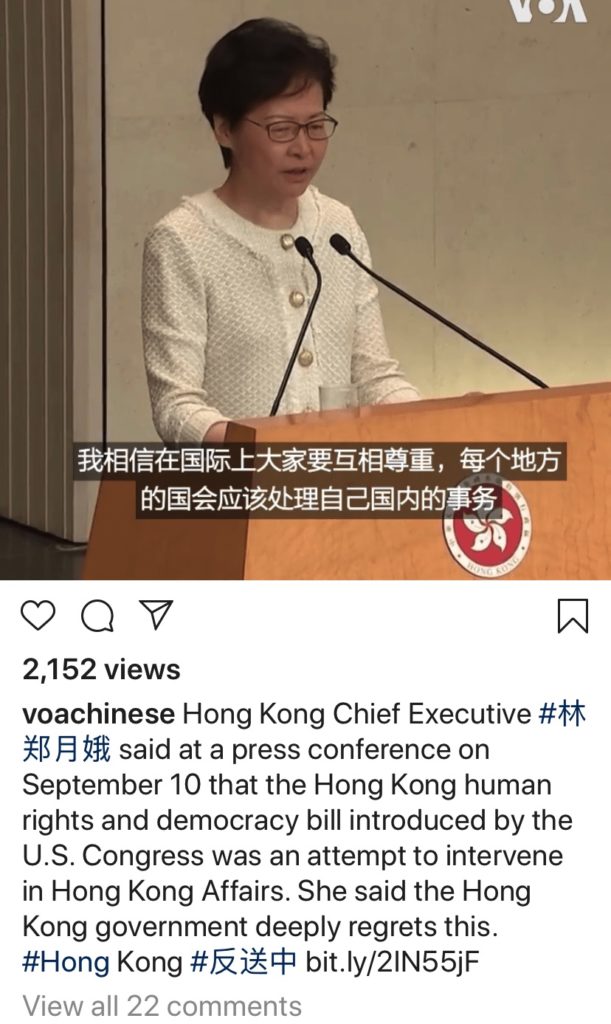 The Washington Post clairvoyantly commented in 2017 the VOA "could be used to disseminate propaganda," even though the Post itself has knowingly promoted CCP lies.
And it's certainly living up to that moniker: American tax dollars are hard at work making sure CCP propaganda triumphs over the truth.