A top investor in video conferencing platform Zoom also invested over $45 million in a Chinese Communist Party-run artificial intelligence program along with other party-linked companies designated as "tools of the Chinese government" by the U.S. State Department.
Zoom – which has seen record growth due to the coronavirus-fueled shift to online meetings – has been under fire for its reportedly close ties to China.
These fears have caused the Department of Defense and Senate to restrict usage and for good reason: Zoom reroutes data through China for non-China users and overwhelmingly uses encryption keys from China-based servers.
Adding to this long list of Chinese ties, a principal investor in Zoom is Hillhouse Capital Management Limited.
Headquartered in Beijing and founded by Chinese national Zhang Lei, the company has a nearly billion-dollar stake in the company, comprising almost 10 percent of the investment group's entire portfolio. Hillhouse used to own over 12 percent of Zoom but recently sold a portion of its shares to decrease its stake to over two percent, still remaining one of the top ten investors in Zoom.
Acquiring stakes in prominent American and CCP companies is Hillhouse's modus operandi. The firm is simultaneously invested in American companies Facebook, Amazon, and Uber alongside CCP-linked companies Tencent and Alibaba.
Tencent has been described the U.S. State Department's Bureau of International Security and Nonproliferation as a "tool of the Chinese government," noting it retains "no meaningful ability to tell the Chinese Communist Party 'no' if officials decide to ask for their assistance."
It also provides "a foundation of technology-facilitated surveillance and social control" as part of the CCP's broader crusade "to shape the world consistent with its authoritarian model." And its CEO has direct CCP links, currently serving as a Congressional Deputy and a member of the premier CCP body, the Standing Committee.
Hillhouse also helps manage finances for some of the most elite American universities such as Stanford and Zhang is personally involved in some of these entities. He's a Yale Board of Trustees member who chairs the university's Asia Development Council, an alumni group that is keen to "strengthen Yale's ties in Asia."
Zhang is also a member of the Hong Kong Financial Services Development Council, a "high-level cross-sectoral advisory body set up by HKSAR Government."
He's a governing board member of the China-United States Exchange Foundation (CUSEF), a CCP-funded propaganda initiative chaired by Tung Chee Hwa, the vice-chairman of CCP advisory body the Chinese People's Political Consultative Conference and a former head of Hong Kong.
The foundation is a registered Chinese foreign agent that often targets American universities with offers to fund policy research, high-level dialogues, and exchange programs. Many schools, however, have divested from CUSEF in light of these ties.
But Zhang's CCP ties run even deeper.
He serves as vice-chairman of the board of directors at Beijing-based Renmin University, one of the country's top universities controlled and funded by the CCP.
Renmin trains many of the CCP's highest-ranking officials and actively participates in the regime's global propaganda operations, spearheading the formation of 12 Confucius Institutes overseas. Confucius Institutes serve as the international propaganda arm of the CCP and are hotbeds for intellectual property theft, "undisclosed ties to Chinese institutions, and conflicted loyalties" according to the FBI.
Despite this, Zhang donated over $45 million to Renmin to form the Gaoling School of Artificial Intelligence (AI) that provides undergraduate education and graduate-level research oriented towards AI.
The school is a joint project of Renmin and the China Association for Science and Technology (CAST), whose charter statement describes its mission as "serv[ing] as a bridge that links the Communist Party of China and the Chinese government to the country's science and technology community." China International Publishing Group (CIPG), the largest state-run publisher under the purview of the CCP's propaganda department, is also involved in the lab.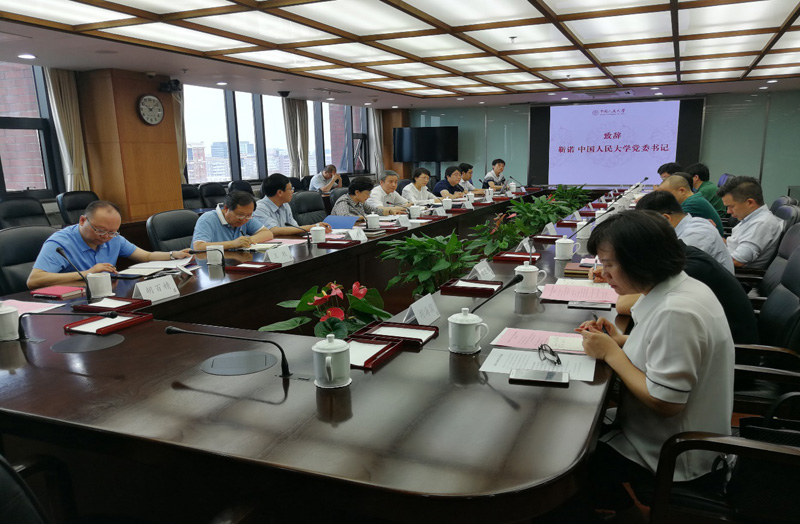 During the opening, the CAST's CCP secretary, Huai Jinpeng, announced that the center aims to follow President Xi Jinping's quest "to develop an AI system that is suitable for the government to provide services and make policy decisions." CIPG's bureau chief Du Zhanyuan noted the school would "breed new AI broadcasting projects" by working with the government's international propaganda "big data service platform."
The school has hosted seminars on how to best use the school to bolster Xi's commitment to "strengthen the combination of AI and social governance and strengthen the integration of government information resources and public Demand forecast accurately." Representatives including the "Deputy Director of the Policy and Regulation Division of the Propaganda Department" at the CCP-linked Chinese Academy of Sciences were in attendance.
Initiatives like Gaoling demonstrate how technological advancement is a key component in the CCP's quest for global dominance. As Xi stated: "Only by controlling core technology in one's own hands, can one seize the initiative in competition and development, and absolutely guarantee national economic security, defense security." And AI is the newest frontier apart of the U.S.-China technological and informational warfare. "High-end science and technology is a national weapon in modern times," decreed Xi.
And CCP involvement in any company is also a clear national security threat. Even if a company is allegedly privately-owned, the CCP has the final say, as Chinese law dictates: "any [Chinese] organization or [Chinese] citizen shall support, assist, and cooperate with state intelligence work in accordance with the law, and maintain the secrecy of all knowledge of state intelligence work." In other words, the CCP can legally requisition any citizen at any time in any place to assist with any party aim.
This raises concerns about Zoom data and technology ending up with the CCP and also grants them leverage in dictating content. For example, the platform recently banned "U.S.-based Chinese activists after they held a Zoom event commemorating the 31st anniversary of the June 4 Tiananmen Square Massacre."
There's a host of reasons to avoid using Zoom, but these unearthed CCP links should be the final blow to the company's facade of Chinese independence.