A new round of protests and riots broke out in Kenosha, Wisconsin, last night following the shooting of Jacob S. Blake by police officers. But far from an innocent bystander, it appears officers had a reason to believe Blake may have been dangerous.
The Heavy.com website reported:
According to Wisconsin Circuit Court Access online records, a Jacob S. Blake, same age and with an address in the same exact block where the shooting occurred, had a warrant issued for him on July 7 on pending accusations of misdemeanor criminal trespass to a dwelling with domestic abuse as a modifier; felony third-degree sexual assault with domestic abuse as a modifier; and misdemeanor disorderly conduct with domestic abuse as a modifier. A support action was dismissed, and the only other case that comes up is for not having a driver's license.
The warrant was issued on July 6th 2020.
Further information about Blake reveals a history of violence and gun use — including pulling a gun at a bar and resisting arrest and causing injury to a police officer:
A 2015 story in Racine Eye described how "Racine police say K9 Dozer had to help officers take a man into custody when the man refused to go quietly into custody after he pulled a gun at a local bar." The man was described as Jacob Blake, 24, of Racine, which makes him the same age as the man shot by police on August 23. The Racine Eye story says he was charged with "one felony count of resisting arrest causing a soft tissue injury to a police officer and one misdemeanor count each of carrying a concealed weapon, carrying a firearm while intoxicated, endangering safety-use of a dangerous weapon, and disorderly conduct." Those charges don't show up on the circuit court website though.
That story further alleges, "Blake and two women were at the Brass Monkey tavern, 1436 Junction Avenue, Saturday when Blake got into an argument with another patron and pulled a black handgun. Blake pointed the gun at the other man, and the magazine fell to the floor. The bartender told Blake to leave, and he did but then pointed the gun through the window at patrons inside the bar before walking south on Junction Avenue."
Police stopped Blake in a "high risk traffic stop" but he "exited the SUV and started walking toward officers and ignored commands to get down on the ground," the story says. That's when officers forced him to the ground and used a K9 when he kept resisting, the story adds.
While shooting an individual in the back may at first glance seem disproportionate from local police, when you contextualize the fact that Blake had a history of gun violence, violence against the police, and had a recent warrant out for his arrest, it becomes understandable why police felt they may have been at risk – especially given Blake's continued defiance of their orders.
Jacob Blake's Facebook cover image is a picture of pigs in police uniform: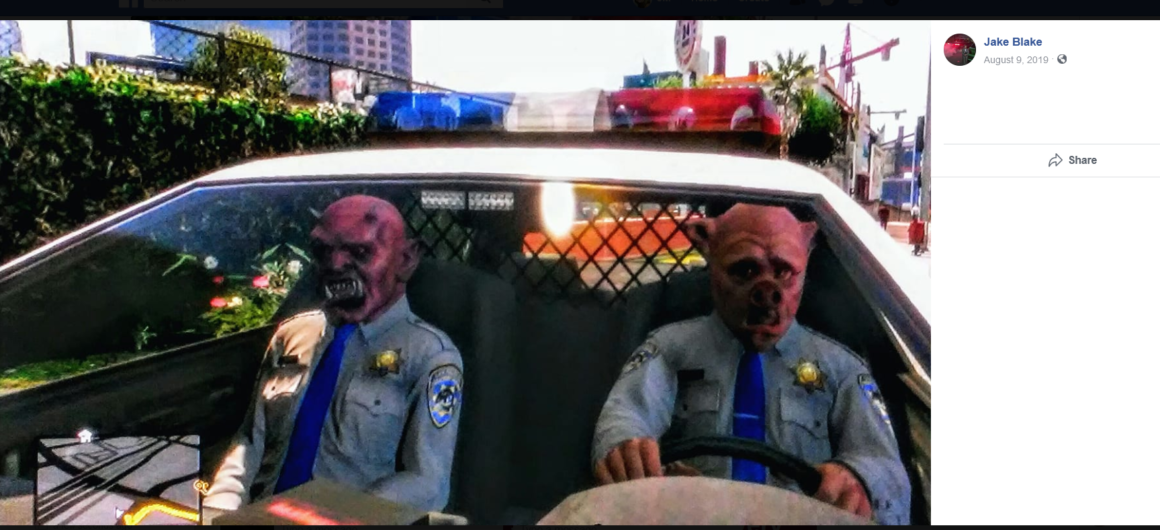 +++ This story is developing +++