Matthew Rosenberg, a New York Times Reporter and CNN National Security Analyst, repeatedly slammed Republican Congressional candidate Marjorie Taylor Greene and her supporters for not wearing masks despite not wearing one himself at the very same event.
A Pulitzer Prize-winning journalist for his work promoting the Russiagate hoax, Rosenberg attended the Georgia Congressional candidate's meetup this week.
From his Twitter account, he emphasized that "masks were very much optional – and unworn" and retweeted another reporter who noted the event's attendees were comprised of "her most ardent, unmasked followers."
Beyond the sanctimonious display and attempts to smear Greene and her supporters, Rosenberg's fearmongering is deeply hypocritical.
He wasn't wearing a mask, either.
As a picture from Green's campaign account reveals, Rosenberg himself wasn't wearing a mask.
The double-standard speaks to the mainstream media's willingness to peddle blatant lies in an attempt to smear Trump-supporting Republicans.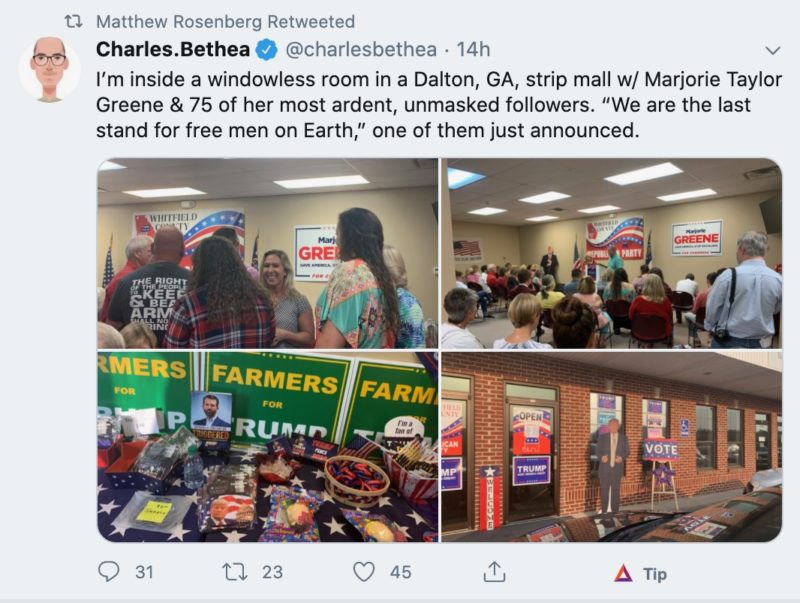 And while doing so, they're keen on demonstrating their moral – and mask-wearing – superiority to their legacy media colleagues.