A new report from a number of reputable, PhD statisticians analyzes the suspicious floods of ballots trickling in following the November 3rd election, concluding all were in favor of Joe Biden.
The report analyzes "vote dumps" – a "25,000+ vote differential between Presidential candidates, received/recorded at one time."
"The conclusion is that all we were able to find were net Biden Dumps," the report summary notes.
Analysis extends to states both won and lost by President Trump, including Florida, Georgia, Illinois, Kentucky, Maine, Michigan, Minnesota, Missouri, Nebraska, New Jersey, Ohio, Pennsylvania, Virginia, and Wisconsin.
Several states experienced more than one vote dump, but all netted in favor of Biden.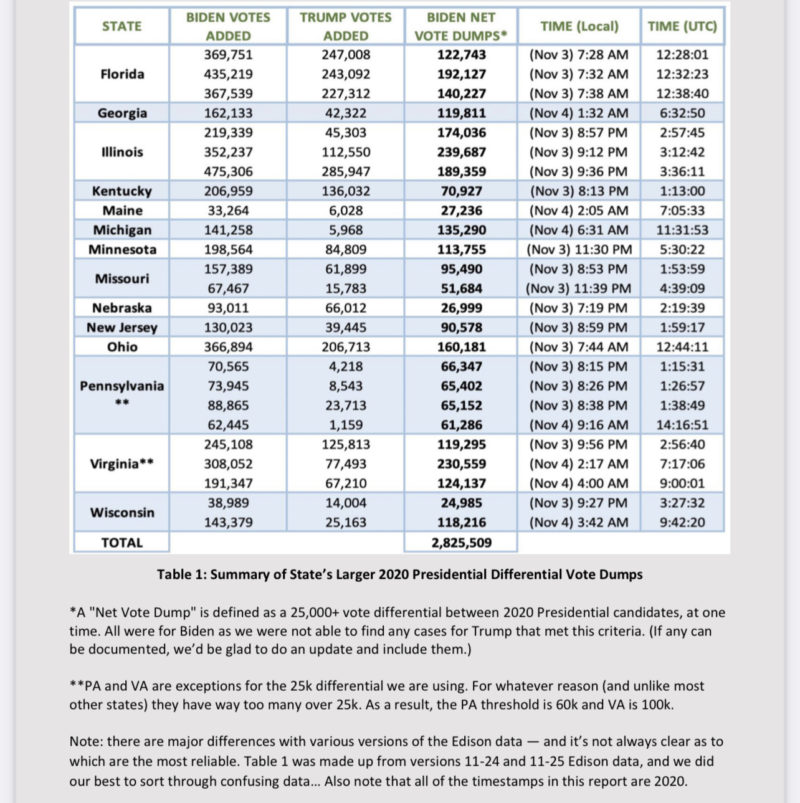 In Georgia, which saw dumps net Biden 119,811 votes, there were two "10-sigma jumps" on November 4th at 01:42:47 03:23:48 UTC.
"Ten-sigma jumps have a probability of 1 in 1023," the report notes.
Similarly, Michigan saw a vote dump net Biden 135,290 votes, with the probability of such phenomena occurring equating to "1 in 10117 — or 14 Powerball wins in a row" per the report.
Read:
Vote Dumps Report by Natalie Winters on Scribd