Verified Twitter user and TV producer Gailen David has called the violent attacker of Senator Rand Paul a "national treasure". Thus far Jack Dorsey's company has taken no action against the anti-conservative user, despite claiming to uphold rules which terminate accounts glorifying violence.
David – mentioned in a number of legal and human resources cases on the internet – sent the following message to Senator Rand Paul (R-KY) on Tuesday morning:
"Rand's neighbor is a national treasure. He was trying to save our country."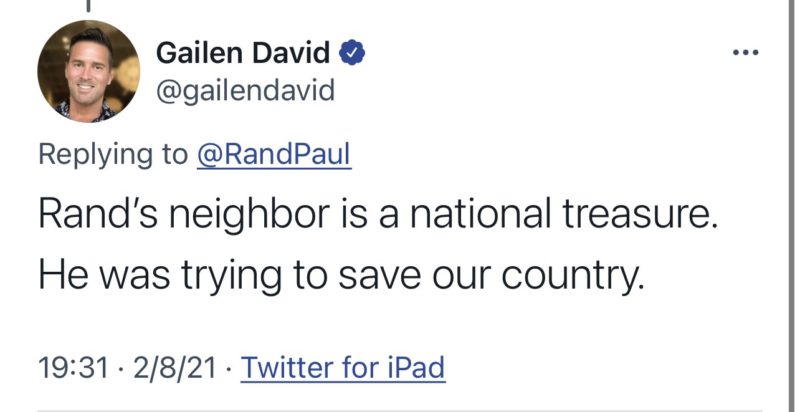 Sen. Rand Paul, R-Ky., said in 2019 that he had surgery to remove part of his lung that was damaged when his neighbor – Rene Boucher – attacked him in 2017.
Galien David has over 23,000 followers on the platform which claims in its own rules:
You may not threaten violence against an individual or a group of people. We also prohibit the glorification of violence.
Glorifying violent acts could inspire others to take part in similar acts of violence. Additionally, glorifying violent events where people were targeted on the basis of their protected characteristics (including: race, ethnicity, national origin, sexual orientation, gender, gender identity, religious affiliation, age, disability, or serious disease) could incite or lead to further violence motivated by hatred and intolerance. For these reasons, we have a policy against content that glorifies acts of violence in a way that may inspire others to replicate those violent acts and cause real offline harm, or events where members of a protected group were the primary targets or victims.
Twitter's rules go on:
Under this policy, you can't glorify, celebrate, praise or condone violent crimes, violent events where people were targeted because of their membership in a protected group, or the perpetrators of such acts. We define glorification to include praising, celebrating, or condoning statements, such as "I'm glad this happened", "This person is my hero", "I wish more people did things like this", or "I hope this inspires others to act".
Violations of this policy include, but are not limited to, glorifying, praising, condoning, or celebrating:
violent acts committed by civilians that resulted in death or serious physical injury, e.g., murders, mass shootings;
attacks carried out by terrorist organizations or violent extremist groups (as defined by our terrorism and violent extremism policy); and
violent events that targeted protected groups, e.g., the Holocaust, Rwandan genocide.
Hundreds of thousands of conservative accounts have disappeared on social media platforms including Twitter in recent months. At the same time, Dorsey's company appears to take no action against left-wingers on the website.