Jack Markell – President Joe Biden's pick to serve as ambassador to the international Organization for Economic Cooperation and Development – has a long history of partnering with Chinese Communist Party foreign influence groups and has called on Americans to "welcome" and "understand" the communist regime.
Markell, a former Governor of Delaware, was also tapped by the White House to lead its Afghan refugee resettlement program "Operation Allies Welcome" in September before his ambassadorship was confirmed by the Senate.
In 2011, Markell penned an op-ed – "How We Can Use China's Growth To Fuel American Jobs" – where he called for increased ties with the communist country.
"The Chinese growth that has long stirred fear among many Americans is increasingly opening up new opportunities for US workers and exporters," Markell argued in the piece before calling on Americans to "welcome" and "understand" the brutal, communist regime:
It's obvious that our political systems are different, but the differences in our legal systems, business culture, and consumer expectations have a far greater impact on companies. If we want to attract Chinese investors and local jobs, we need to welcome them, understand them, and be prepared to help them understand our expectations.
"From my work in the private sector, I know that competitiveness is fortified by cooperation. These efforts will make our country and each of our states stronger," he added.
Markell also details his work with the National Governors Association (NGA), including inking deals with Chinese Communist Party officials.
"At the NGA Winter Meeting this February, I was pleased to sign an agreement with the top official from China's Hunan Province, Secretary Zhou Qiang, to cooperate on job creation," he outlined before praising the group's effort to "promote cooperation" with China:
I applaud the initiatives by Secretary of State Hillary Rodham Clinton and the National Governors Association to promote cooperation between "subnational" (state and local) governments in China and the United States.
In a separate NGA forum taking place in July 2011, Markell signed another memorandum of understanding with the secretary of the Zhejiang Provincial Committee of the Communist Party of China Zhao Hongzhu. Markell would later go on to serve as the Chairman of the NGA from 2012 to 2013.
The NGA has a long history of collaboration with the Chinese People's Association for Friendship with Foreign Countries (CPAFFC) – a premier state-run foreign influence group that functions as part of the country's United Front Work Department (UFWD). The U.S.-China Security and Economic Review Commission has flagged the UFWD as Beijing's weapon "to co-opt and neutralize sources of potential opposition to the policies and authority of its ruling Chinese Communist Party" and "influence foreign governments to take actions or adopt positions supportive of Beijing."
The Trump administration designated the group a foreign mission, noting it has "sought to directly and malignly influence" American officials to promote China's global agenda and relies on NGA forums to do so.
While in office, Markell also partnered with the Chinese company Wanxiang to fund delegations of Delaware students to study in China.
Wanxiang, however, is run by high-ranking Chinese Communist Party apparatchiks and has a long track record of adding relatives and associates of establishment American politicians to its rolodex to secure legislative and regulatory favors.
As Peter Schweizer points out in Secret Empires, the company leverages these connections to circumvent federal regulations aimed at curtailing predatory acquisition and investment at the hands of Beijing-linked firms:
"It has also collected powerful political friends on both sides of the aisle, by putting them and their family members on the payroll. Along the way, it has skated past federal regulations and avoided sanctions for doing business in North Korea that have plagued other companies. It offers a powerful illustration of how politically connected firms make members of the American political class wealthy while getting special treatment in the United States."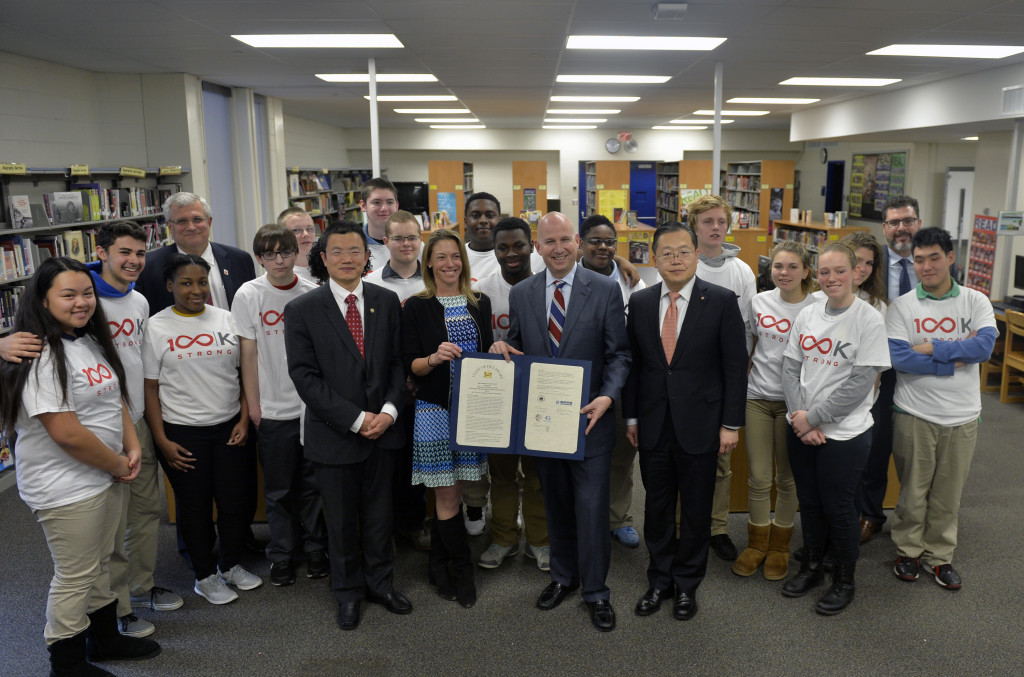 Since departing the Delaware Governor's office, Markell has stayed in the Chinese Communist Party's orbit, including attending events sponsored by another Beijing-backed influence group: China General Chamber of Commerce-U.S.A.
He attended their 10th-anniversary gala in 2015 alongside several Chinese Communist Party officials.