Following Facebook, Twitter is the latest social media platform to crack down on the ability of users to share a recent New York Post article highlighting how the son of Democratic Presidential candidate Joe Biden used his father's position in government as a point of leverage in business dealings.
The bombshell article – "Smoking-gun email reveals how Hunter Biden introduced Ukrainian businessman to VP dad" – can no longer be linked to on Twitter just hours after publcation. If users attempt to share the piece, they're promptly met with a notification that the "tweet could not be sent because the link has been identified by Twitter or our partners as being potentially harmful."

Twitter is prohibiting users from sharing the @nypost's Hunter Biden story because the link is "potentially harmful." pic.twitter.com/YiZZBJvLam

— Anders Hagstrom (@Hagstrom_Anders) October 14, 2020
The platform has also banned users from sharing the story privately via direct message.
Twitter's rationale for censoring the article was rooted in the story's "lack of authoritative reporting on the origins of the materials included in the article" as well as the story's alleged violation of the company's "Hacked Material policy: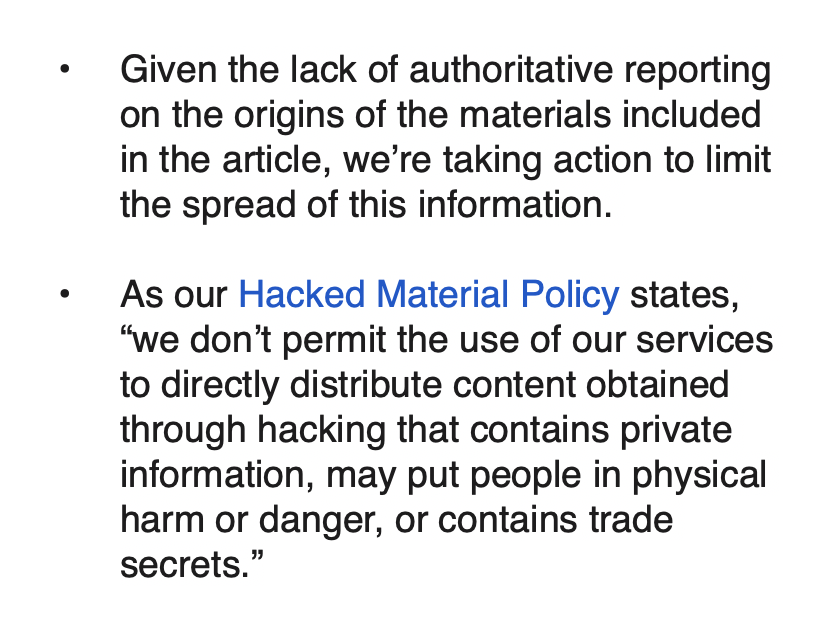 This development is the
latest
evidence of Twitter's left-wing bias, with many equating the move to election interference at the hands of big tech.