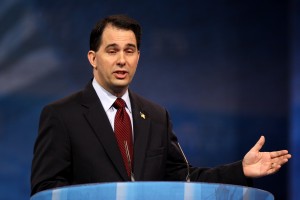 Frank Cannon was the first to catch the terrible blunder Scott Walker made in his Sunday interview on abortion, where he seemed to suggest he was powerless and impotent in the face of the Supreme Court's abortion rulings.  The Walker campaign appears to realize that this, unlike the contrived media about his alleged gaffes on evolution etc., was a real blunder.
He has released an open letter promising to fight to protect life and specifically committing to support the 20 week abortion ban, both in Wisconsin and federally. Kudos to the Susan B. Anthony List gals for posting the letter and to Gov. Walker for recognizing he can do something about abortion in this country: he can support a ban on abortions after the fifth month in pregnancy, a ban that SBA has spearheaded.
Maggie Gallagher is the editor of ThePulse2016.com.