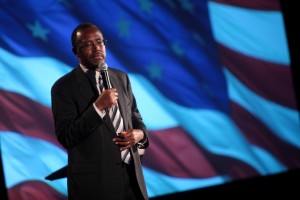 You have to sympathize with the man: No presidential candidate wants to fall in the buzz trap that opens up when you cross the line on gay rights, wherever the gay rights community then draws the line.  (It has moved progressively and rapidly, as political conservatives willingness and ability to oppose the LGBT community's definition of what is true, good, beautiful, reasonable and permissible to say fades).
In his latest communication with Sean Hannity, Dr. Carson explains he's just not going to talk about those issues any more to avoid the MSM's trap:
Famed neurosurgeon Ben Carson said Wednesday that he would no longer be talking about gay marriage because, in his view, he was taken out of context by "liberal press" when he claimed that prisons prove that being gay isn't a choice.

"First of all, it was a 25-minute interview, they chopped — and you see what part they emphasized. We talked about some really important things, none of that was brought up. But, I did learn something very important, for certain networks, never do a pre-taped interview," he said on the Sean Hannity radio show.
That is sensible advice: do only live interviews or live-to-tape-interviews. I adopted that one myself.
But in his interview with Hannity, Carson also explicitly adopted the Truce strategy:
"I simply have decided, that I'm not going to really talk about that issue anymore because every time I'm gaining momentum, the liberal press says 'let's talk about gay rights.' And I'm just not going to fall for that anymore," he said.
If you want to know why Republicans fall silent before the liberal onslaught, we have to understand this truce dynamic. This is one way we got to the point that the liberals who dominate mainstream news can determine key parts of the GOP agenda: through their capacity to dominate the news narrative and make conservatives look obsessed or foolish.  I have sympathy for Dr. Carson.
But Dr. Carson has also shown that if you throw enough pressure at him, pressure in this case consisting of a bad 24-hour news cycle, he will wave the truce flag.  I find it hard to see how he recovers, given he has no strong base of support other than that he is the outsider candidate who is not afraid to be politically incorrect.
Now Dr. Carson is afraid to speak.  Reasonable fear, but still afraid.
It is important for the rest of us to recognize this is not a character defect in our candidates.  It is a function of real power imbalances between conservatives and liberals, and especially conservative Christians and other minority groups.
Moving forward is going to require, as I just said, figuring out new political and cultural strategies.
Maggie Gallagher is the editor of ThePulse2016.com.