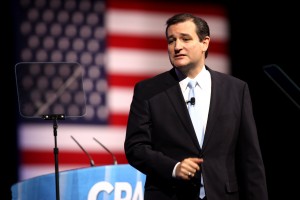 Yesterday, Alex Leary wrote a piece for the Tampa Bay Times as part of their aptly named "Jebio 2016" coverage. Their "Jebio" coverage is a Florida-centric look at the 2016 primaries in the sense that it focuses on Florida's two favorite sons in the race, Jeb Bush and Marco Rubio. Leary writes:
Texas Sen. Ted Cruz's entry into the Republican primary for president could bring headaches for two likely rivals from Florida, Sen. Marco Rubio and former Gov. Jeb Bush.

For Bush, Cruz will draw even more attention to Common Core, the education standards that have become a flash point for conservative activists.

"Instead of a federal government that seeks to dictate school curriculum through Common Core, imagine repealing every word of Common Core," Cruz said in his announcement speech Monday at Liberty University in Virginia.
While I agree with Leary that Common Core is an issue for Jeb with conservatives, I don't think that Ted Cruz's candidacy will be the deciding factor. Nearly all of the 2016 candidates have adopted strong positions against Common Core, not to mention the responses from concerned parents across the nation. So, that being said, with or without Cruz, Jeb will be experiencing plenty of blowback for his support of Common Core. Leary then turns his focus to Rubio, writing:
For Rubio, Cruz could attack him over his role in writing the Senate's comprehensive immigration bill — legislation Cruz voted against and denounces as amnesty.

Cruz, a relative fresh face in national politics, could also drain Rubio's support among activists, some of whom are giving the Floridian another look after he distanced himself from his own immigration bill. Rubio now says a piecemeal approach is best.

Cruz, like Rubio, is the son of a Cuban immigrant and he focused a good part of his speech Monday on the same American Dream theme that Rubio has used. His campaign released an ad in Spanish that appeals to the growing Hispanic voter base.
In this case, I think Leary is more on point, as the Senate debate between Cruz and Rubio over immigration may very well spill over into the 2016 race. When immigration questions are inevitably asked on the debate stage, Cruz and Rubio appear poised to be among the strongest voices, and on two opposite sides of the issue. At the end of the day, however, Cruz has only been an official candidate for one day. Time will tell how Cruz will affect the 2016 race, but I think it's safe to assume, given his performance on the pre-candidacy stump, that he will have an impact on the race.
Joshua Pinho works for American Principles in Action.