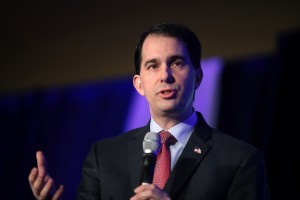 At a New Hampshire GOP dinner earlier this month, Scott Walker reportedly changed his position on immigration. The Wall Street Journal's Reid Epstein was tipped off to Walker's comments by three separate attendees of the private event. He reported:
Wisconsin Gov. Scott Walker told a private dinner of New Hampshire Republicans this month that he backed the idea of allowing undocumented immigrants to stay in the country and to eventually become eligible for citizenship, a position at odds with his previous public statements on the matter.
His previous position on immigration was made most clear in an interview with Sean Hannity in which he told Hannity:
"[T]here should be no amnesty. You should secure the border, not just for immigration reasons, but why would you put a fence around three sides of your home and leave the back door open? That's what we have when we guard our ports, we guard our airports, we don't guard our borders…beyond that you've got to enforce the law. We put the onus on employers to give them an E-Verify type system where they have access to enforce the law."
His comments to Hannity were viewed by some as a flip-flop, as Epstein reports:
Mr. Walker's "no amnesty" position was itself a change from his prior decadelong support for a pathway to citizenship. He has explained in public that his recent shift to a more restrictive view came after consulting with border-state governors and hearing from people opposed to citizenship for undocumented immigrants.
Epstein goes into further detail on Walker's private comments in New Hampshire compared to the public comments he made during the same time frame:
[D]uring the March 13 New Hampshire dinner, organized by New Hampshire Republican Party Chairwoman Jennifer Horn at the Copper Door Restaurant in Bedford, Mr. Walker said undocumented immigrants shouldn't be deported, and he mocked 2012 GOP nominee Mitt Romney's suggestion that they would "self-deport," according to people who were there.

Instead, they said, Mr. Walker said undocumented immigrants should be allowed to "eventually get their citizenship without being given preferential treatment" ahead of people already in line to obtain citizenship.

"He said no to citizenship now, but later they could get it," said Bill Greiner, an owner of the Copper Door restaurant. Ken Merrifield, mayor of Franklin, N.H., who also attended, said Mr. Walker proposed that illegal immigrants should "get to the back of the line for citizenship" but not be deported.

Mr. Walker's statements about citizenship were at odds with what he told reporters the next day in Concord, where he defended his position opposing a path to citizenship.

"This is one where we listened to the people all across the country, especially border governors who saw how this president messed that up,'' he said. "And that's an issue where I think where people want leaders who are willing to listen to people."

A Walker spokeswoman, Kirsten Kukowski, on Thursday didn't address the comments governor made at the March 13 dinner supporting a path to citizenship. "Gov. Walker has repeatedly said that President Obama's unconstitutional executive action and the collateral damage it has had on his fellow governors has made it evident that border security must be the top priority before we can have a conversation about anything else," she said. "He is opposed to amnesty. There must be consequences for violating our laws."
I would welcome a more pro-immigration stance from Walker, one more like his historic positions, but Walker can't make comments in private that are at odds with his public positions without losing credibility. As we learned from Mitt Romney's "47 percent" comments during the 2012 campaign, in this day and age, politicians can't rely on the presumed confidentiality of private events. And, realistically, they shouldn't have a candidacy behind closed doors that is at odds with the positions they make in public.
Joshua Pinho works for American Principles in Action.