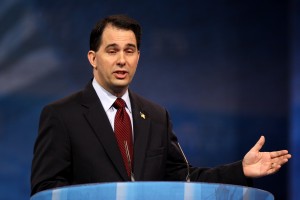 As promised, I will be detailing which GOP candidates had the courage to speak out amidst the intense media freakout over Indiana's religious freedom law. Many did so strongly, including Bush, Rubio, Cruz, Carson, Jindal, and Santorum.
Two big exceptions? Gov. Scott Walker and Sen. Rand Paul.
Walker was curiously "non-committal" according to Wisconsin media.
"That's an issue they'll have to debate in Indiana," Walker said. "It's really not something we're going to be involved with here."
Sen Rand Paul appeared not to talk at all, from what I can find. CNN, in its roundup, only drudged up this ambivalent quote from last year about Arizona's RFRA:
Kentucky Sen. Rand Paul said in 2014, as Arizona was considering a similar law — with major backlash then, too, which led Republican Gov. Jan Brewer to veto the measure — that the marketplace ultimately works to prevent discrimination.

"I think that the right to associate and the right to be free in your business decisions is out there," he said then.

But Paul added: "I'm not real excited about laws that sort of say you can deny people service."
If you have a statement from either candidate directly on Indiana, can you let me know in the comments?
We will report on those who had the courage to speak in a separate post.
Maggie Gallagher is editor of ThePulse2016.com.