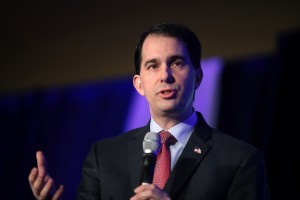 The Milwaukee Journal Sentinel's Craig Gilbert reported on Scott Walker's results in several polls. Among self-identified conservatives:
In a recent Washington Post/ABC News poll, Walker does twice as well with conservative Republicans as he does with moderate-to-liberal Republicans.

In a national survey by Monmouth University, Walker's favorability rating was 63% among "very conservative" Republicans, 41% among "somewhat conservative" Republicans and 32% among moderate to liberal Republicans (with large percentages having no opinion).

In a survey by Public Policy Polling, Walker's favorability rating was 80% among tea party supporters and 46% among those who don't support the tea party.

In a McClatchy-Marist poll, Walker had the support of 24% of very conservative Republicans, 20% of conservative Republicans and 15% of moderate Republicans.

These patterns make Walker the reverse image of Jeb Bush in his ideological appeal within the party. In the McClatchy-Marist poll, Bush got only 7% of very conservative Republicans, but 18% of conservative Republicans and 26% of moderate Republicans.
Based on gender:
Walker is doing much better with men than women right now. In a recent Fox News poll, he easily led the GOP field among men with 21%, but ran fifth among women with 8% — the biggest gender gap in the field. In The Washington Post/ABC poll, he had the support of 17% of men and 6% of women. In the Public Policy Polling survey, 26% of men backed him, compared to 14% of women.

Part of Walker's gender gap could be due to the fact that Republican men are more engaged than women at this point and more likely to know something about Walker, who still lacks the name recognition of many others in the field. In the Monmouth poll, only 45% of women had an opinion about Walker, compared to 61% of men.

But Walker's strength with male voters also echoes his history in Wisconsin, where he is more popular with Republican men than Republican women and more popular with independent men than independent women, according to polling by Charles Franklin of the Marquette University Law School. Among Republicans, Walker had a 95% positive rating among men and 89% rating among women in Marquette's last four 2014 polls; among independents, he had a 53% positive rating among men and a 41% rating among women.
Based on age and education:
Age. Walker is getting higher ratings from GOP voters 45 and over older than from those under 45. He has led among older Republicans in several national polls, while running third or fourth among younger Republicans. That's the reverse of the pattern for Kentucky Sen. Rand Paul, who does much better with younger voters than older voters.

Education. Walker seems to be faring better with more educated Republicans than less educated Republicans. In the Washington Post/ABC survey, he led all candidates among GOP college grads (with 20% of the vote), but ran fifth among non-college Republicans (with 8%). It will take more polling to see how consistent this pattern is. But it runs counter to the perception of some that Walker's appeal is more "blue-collar" and Bush's more "white-collar." In polls by both the Post and McClatchy-Marist, the reverse was true: Walker led the field with college grads, Bush with noncollege grads.
Gilbert notes that these results indicate Walker is doing better among the types of voters that tend to vote in primaries. Gilbert also notes that four out of ten GOP voters are still unsure of Walker or haven't heard of him yet, which is, as Gilbert notes quite accurately, "a reminder of how cautious to be about the 2015 polling," at this early stage.
Joshua Pinho works for American Principles in Action.