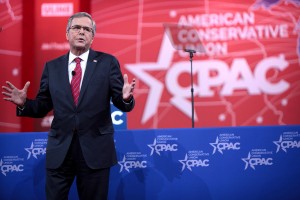 On April 12th, Bloomberg released a poll, of 655 Republicans and independents, which asked voters if they would seriously consider, might consider, or would never consider each candidate. Jeb Bush did not turn in the results one would expect from a front-runner. The poll showed that just 14 percent of respondents would "seriously consider" voting for Jeb Bush, while 42 percent would "never consider" voting for him. Compare those numbers to Scott Walker's number, which show 16 percent seriously consider, while only 26 percent would never consider voting for him. In fact, only four other candidates turned in the same or higher numbers than Bush in the "never consider" category:
Donald Trump: 62% would never consider
George Pataki: 45% would never consider
Lindsey Graham: 44% would never consider
Chris Christie: 42% would never consider
It's hard to ignore that there is a grassroots resistance to Jeb Bush, and I think this begs the question: How much of the resistance is due to the name "Bush"? The resistance doesn't appear to be message-based. Marco Rubio has a similar stance on immigration as Bush does, and John Kasich has been an ardent supporter of Common Core, just as Bush has. Kasich and Rubio have "never consider" numbers of 27 percent and 28 percent, respectively. The media presents Jeb as a front-runner, and at one time they presented him as the inevitable GOP candidate. But there is a weakness in his candidacy, as evidenced by the number of voters who would "never consider" him, and I think a good portion of that comes down to the very fact that he's a Bush.
Frank Cannon is the president of American Principles in Action.