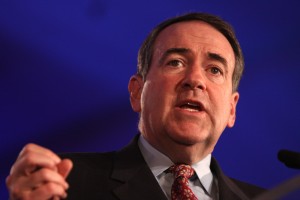 At the same forum where, speaking English and Spanish, Jeb Bush promised to fix a broken immigration system, Mike Huckabee made a different appeal to Hispanic evangelicals: "I do not come to you tonight with the ability to speak Spanish," Gov. Huckabee, said during an appearance at the National Hispanic Christian Leadership Conference. "But I do speak a common language. I speak Jesus."
Emphasizing his blue collar background (his father was a fireman, his mom a gas company clerk),  Huckabee said a border fence was not a negative: ""If I were a person immigrating here, I would want to know that the doors that I came through were also secure."
Although Huckabee supported a pathway to citizenship as rational in 2006, he says now there is no point in discussing these alternatives until the border is secure.
He warned again of the coming "criminalization of Christianity" and said of the Supreme Court's pending decision on gay marriage that while he respects the Court, it can't "change what God created."
"It is not the supreme being," he told an enthusiastic crowd that The Wall Street Journal reported repeatedly interrupted his remarks with applause. "It cannot overrule God."
Like or hate his immigration position, Huckabee is vividly demonstrating the potential usefulness of so-called "social issues" in Latino outreach.
The Romney campaign in 2012 refused to run on social issues (having promised donors they would not) and found itself with nothing to offer Latinos.
Fixing that enormous hole is as important as fixing harsh immigration language to building a winning coalition in 2016.
Huckabee shows us how it can be done.
Maggie Gallagher is a senior fellow at American Principles in Action.