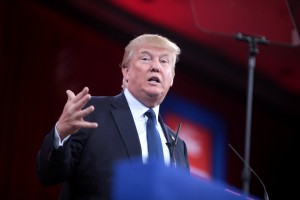 To the surprise of many, Donald Trump is an official candidate for the 2016 Presidential nomination. In the lead up to his announcement, Trump has stated, "[b]elieve me, if I run and I win, I will be the greatest representative of the Christians they've had in a long time." So, naturally, on the issue of life, Trump touts his credentials as a pro-lifer. LifeNews has gathered a sampling of Trump's statements on life:
"I'm pro-life and I have been pro-life," Trump says. "It's an issue and a strong issue."

…

"If you look at it, I said, 'It really, really troubles me, and it really, really bothers me, the whole concept of abortion.' This was years ago, and even then it really bothered me, but I went on the other side of the line," Trump said. "But in thinking about it over the years, I've had instances, and one instance in particular, a friend had a child who they were going to abort, and now they have it, and the child is incredible. And the man, he changed his views also because of that."

"As I've grown older, as I've seen things happen in life, I've changed my views — and others have also," he said.
According to the LifeNews piece, Trump believes abortion should only be permitted in cases of "rape or incest or when the life of the mother is jeopardized by the pregnancy." He compares this stance to that of Ronald Reagan:
"Ronald Reagan had the same basic stances I had, and I absolutely believe in the three instances" of exception, he said. "I hope that I can convince Iowans that I will be the best to save our country, and the fact is, I am pro-life."
Joshua Pinho works for American Principles in Action.