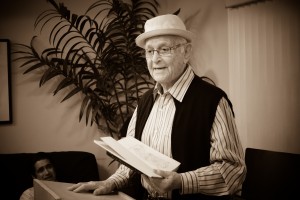 In an interview with Entertainment Weekly, legendary TV producer Norman Lear ("All in the Family," "The Jeffersons," "One Day at a Time") just declared himself a "bleeding-heart conservative," and then "a total social conservative."  Reading between the lines, it sounds like what he thinks of himself as is a liberal who loves America.  But patriotism is being redefined by the Left as racist conservatism.
From the interview:
Everybody knows me to be a progressive or a liberal or lefty or whatever. I think of myself as a bleeding-heart conservative. You will not f— with my Bill of Rights, my Constitution, my guarantees of political justice for all. But does my heart bleed for those who need help and aren't getting the justice that the country promises them and the equal opportunity the country promises? Yes. I'm a bleeding heart, but I think myself to be a total social conservative. The people who are running just don't seem to have America on their minds, not the America I think about. When I was a kid we were in love with America. As early as I can remember, there was a civics class in my public school. And I was in love with those things that guaranteed freedom before I learned that there were people who hated me because I was Jewish. I had a Bill of Rights and a Constitution, those words out of the Declaration that protected me. And I knew about that because we had civics in class. We don't have that much in the country anymore. So before World War II or shortly after, we were in love with America because we understood what it was about and that's what we were in love with. I believe everybody's patriotic today. Everybody loves America. But I don't need their flag plans to prove it. I'd like to go back to civics lessons.
Maggie Gallagher is a senior fellow at American Principles in Action.