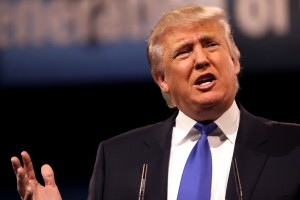 Following the Supreme Court's marriage ruling in June, Donald Trump issued no statement, wrote no op-ed, and basically didn't seem to care about the issue at all.  During a CNN interview, Jake Tapper asked him about it.  He said he's for traditional marriage, and that he has a great wife.  That's about it.
Here is the Donald when he doesn't want to talk about a controversial issue:
Jake Tapper: Let's talk about same-sex marriage, you said, a few years ago, that you were evolving on that issue. Where are you?

Donald Trump: I'm for traditional marriage, it is changing rapidly.

Tapper: But, what do you say to a lesbian who's married, or a gay man who's married, who says 'Donald Trump, what's traditional about being married three times?'

Trump: Well, they have a very good point, but, you know, I've been a very hard working person, I've had, actually I have a great marriage. I have a great wife now. And my two wives were very good, and I don't blame them, but I was so—I was working, maybe like you, 22 hours a day—

Tapper: I'm not asking you to explain your divorces, but—

Trump: No, I know, but I'm just saying, it was—I blame myself because my business was so powerful for me, I don't know if that's a good thing or a bad thing.

Tapper: But what do you say to a lesbian or a gay man who are married, and say—

Trump: I really don't say anything, I mean, I'm just—Jake, I'm for traditional marriage.
You can see ThePulse2016.com's full gay marriage report card here.
Maggie Gallagher is a senior fellow at American Principles in Action.