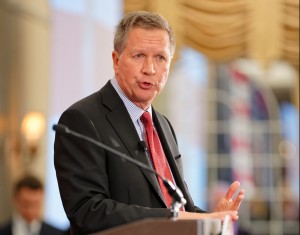 At a New Hampshire town hall yesterday, Gov. Kasich said that Roe v. Wade is "the law of the land now" and that we "we live by the law of the land."
Kasich offered no other comments after being asked about his stance on abortion, and quickly pivoted to another question. This comes on the heels of remarks the Governor made on CNN criticizing Republicans for focusing "too much" on abortion.
Governor Kasich begs the question. America is aware of the law. It allows abortion up until birth. Pro-life voters, especially most Republican primary voters, do not accept Roe as the law of the land.  Its assault on federal and states' rights to protect unborn children claims over 3,000 unborn boys and girls and their mothers as victims every day.
Primary voters will benefit from understanding Governor Kasich's policy agenda when it comes to abortion.  Right now it appears he is satisfied with Roe's status quo: abortion on-demand up until the moment of birth.
Marjorie Dannenfelser is the president of the Susan B. Anthony List, a national pro-life organization dedicated to electing leaders and advancing legislation to reduce and ultimately end abortion.