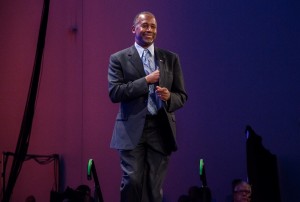 The Carson surge in Iowa continues, with a new Monmouth University poll showing Carson now tied with Trump at 23 percent, with Fiorina third at 10 percent, Cruz at 9 percent, and Walker fading to 7 percent.
This follows a Des Moines Register poll released yesterday which also
showed Carson gaining on Trump, trailing the front runner by only 5
points.  They were the only two candidates to register in the double
digits.
Frank Cannon, you were certainly right about who is the new "Top Tier" in the GOP—and on August 14!  Read it here first.
Maggie Gallagher is a senior fellow at American Principles in Action.