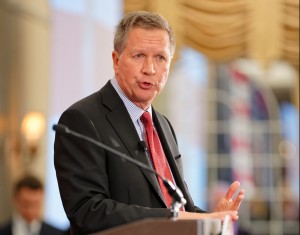 After last night's debate, I am tempted to pronounce an addendum to Maggie's rule, which is: "Whichever party nominates a governor from Massachusetts, loses."
Maggie's Corollary: "Whatever donor or pundit invests in a Midwestern governor for the GOP nomination, loses."
Scott Walker and John Kasich both turned in desultory, polite, unmemorable, and, frankly, boring performances. Something about Minnesota nice leaching through the cornfields? I don't know.
Kasich got very little air time Wednesday night, unlike the first debate, and so late in the evening, he decided to do the equivalent of grab the microphone and have his say with the American people. And in this dramatic moment he said. . . well, watch and see for yourself. One of the debate's most unmemorable moments. And the reason why Kasich is not going to make it to Pennsylvania Avenue:
JOHN KASICH: Can I just — can I — Jake, can I just make one point on this whole military discussion?

JAKE TAPPER: Sure….

KASICH: I called for boots on the ground many months ago in a coalition with our friends who share our interest. You know, you win a battle with the military, and when we go somewhere, we need to be mobile, and lethal. We need to take care of business, and we need to come home.

But, we face, also, a bigger war — and you win the bigger war with the battle of ideas. You wonder why young people, and educated people, rich people, schooled people, have tried to join ISIS.

Western civilization, all of us, need to wake up to the fact that those murderers and rapists need to be called out, and in Western civilization we need to make it clear that our faith in the Jewish and Christian principals force us to live a life bigger than ourselves…

TAPPER: …Thank you, Governor…

KASICH: …to make centers of justice so that we can battle the radicals, call them out for what they are, and make sure that all of our people feel fulfilled in living in Western civilization…
Maggie Gallagher is a senior fellow at American Principles in Action.