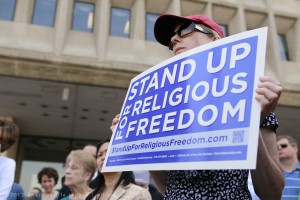 A new Barna poll commissioned by Alliance Defending Freedom finds a large increase in Americans' concerns about religious freedom.
Forty-one percent of Americans overall say religious freedom is getting worse, compared to 33 percent who were concerned in 2012.
But concerns are concentrated among practicing Christian millennials, who are growing up in the midst of liberal-dominated cultures after gay marriage: 56 percent of young practicing Christian adults now say they are "very concerned" about the future of religious freedom, up from 19 percent in 2012.
But even atheists and agnostics report more concerns about the future of religious liberty now than just three years ago.
Maggie Gallagher is a senior fellow at American Principles in Action.