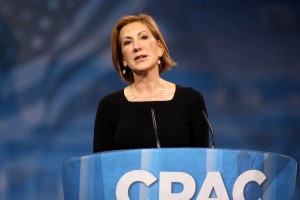 Planned Parenthood and the Democrats may still call her a liar, but guess what? Even Politifact had to admit that Carly Fiorina was right about Planned Parenthood!
In another shocking claim, Fiorina recently told Fox News' Sean Hannity that Planned Parenthood "is an organization that funnels millions of dollars in political contributions to pro-abortion candidates."
While this might sound outrageous to those who still believe Planned Parenthood does mammograms, Politifact found that Fiorina's statement is on "solid ground."
The two major categories of Planned Parenthood's expenses for the 2014 campaign cycle include the Planned Parenthood Action Fund Inc. Federal PAC and the Super PAC and 501(c)(4) groups.  Together, these arms of Planned Parenthood spent $6,587,100 on political activism.  If other recent election cycles were added in, the number would be even higher.
While not all of this money was given to candidates, the Center for Responsive Politics found that during the 2014 campaign cycle, "groups and individuals related to Planned Parenthood spent $679,708 specifically on congressional candidates."  Add in the entire 1990 to 2016 period, and the report estimates that Planned Parenthood affiliates spent about $3.9 million specifically on congressional candidates.  The biggest recipients of this money all received a 100 percent vote rating from NARAL-Pro-Choice America, receiving between $14,000 and $23,000 each.
Politifact also notes that these two main Planned Parenthood entities are legally allowed to engage in election activity and are separate from the operational arm of Planned Parenthood.  What they neglected to note, however, is one of the main issues addressed in the House Committee on Oversight and Government Reform report for the Planned Parenthood Investigation.
Based on Planned Parenthood's 2009-2013 tax returns, the report finds that over the past five years, Planned Parenthood Federation of America, the arm of the organization that receives federal funding, "has given the Planned Parenthood Action Fund $21,567,629 in grants.  It has also given other 501(c)(4)s a total of $1,099,932."
As the Committee Chairman Rep. Jason Chaffetz addressed during the recent hearing, taxpayer dollars displace money that Planned Parenthood would otherwise be spending on operating expenses, therefore freeing up money for other uses.  By way of grants, these other uses include funding pro-abortion political activism—over $2.2 million in grants throughout the past five years.
Despite the media's repeated attempts to smear Fiorina's image and statements about Planned Parenthood, the truth is being uncovered too quickly to hide this time.
Anna Pfaff works for American Principles in Action.