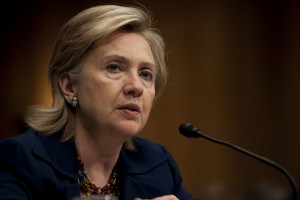 Yes, Fiorina crushes Clinton in Iowa, but so do other GOP candidates.
Here's some more fascinating data from the state polls. If the 2016 general election were held today, Hillary Clinton would lose Iowa to Jeb Bush by 10 points, 50 percent to 40 percent. And she would lose to Donald Trump by seven points, 48 percent to 41 percent.
This is huge! Iowa is not a GOP-leaning state. It has voted Republican only once in the past seven presidential elections.
What about New Hampshire? That state has voted Democrat in five of the last seven presidential elections. But the NBC/Wall Street Journal poll finds Fiorina leading Clinton by eight points (50 percent to 42 percent), Bush leading Clinton by seven (49 percent to 42 percent), while Trump is essentially tied with Clinton.
Gary L. Bauer served in President Ronald Reagan's administration for eight years, as Under Secretary of Education and as President Reagan's Chief Domestic Policy Advisor.