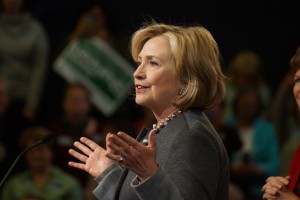 Hillary Clinton's outspoken support for same-sex marriage is old news, but now she's going after religious liberty.
While traveling through Iowa for two days this week, Clinton stopped to speak to over 700 people at Cornell College.  On the topic of Kentucky clerk Kim Davis' refusal to issue marriage licenses based on her Christian beliefs, Clinton said that jail was the "right thing" for Davis.
"People are totally entitled to their private, personal beliefs, religious or otherwise, but when you take an oath to uphold the constitution of the United States, that is your job," Clinton told the crowd.  For this reason, Clinton said Davis was "treated as she should have been treated."
The fact that Clinton publicly supports the idea that religious belief should only be a private affair, and that she supports the imprisonment of those who attempt to practice their faith in the public square, signals a massive threat to religious liberty should the Democrats win the next election.
Anna Pfaff works for American Principles in Action.