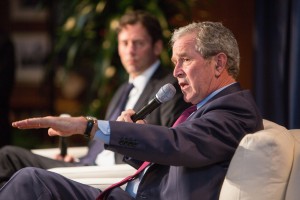 It was a typical night at a Bush campaign fundraiser…until Jeb's older brother laid into Ted Cruz.
Donors attending the Denver fundraiser reported that George Bush's half hour of unscripted remarks and off-the-cuff jokes remained "pretty pleasant" when speaking about the other candidates, including Trump, who has personally attacked G.W. in recent weeks for his leadership in the Iraq war.
Moving on to his own state's senator however, he said, "I just don't like the guy."
Donors said that Bush was especially critical of Cruz's alliance with Trump during his event at the Capitol to oppose the Iran deal, saying Bush "found it 'opportunistic' that Cruz was sucking up to Trump and just expecting all of his support to come to him in the end."
While Cruz served as George Bush's domestic policy advisor for his 2000 campaign, he has more recently set himself in opposition to the Bushes, particularly with his bestselling book, A Time for Truth, in which he criticizes Bush's handling of Iraq, subsequent nation-building efforts, and the administration's "bigger government and excessive spending and new entitlements." He has also slammed Jeb Bush's views on immigration and education, calling out his stances as being "in direct conflict with the views of most Republicans." His attack on Jeb for his response to the Supreme Court decision legalizing same-sex marriage was even harsher.
On Monday night, Cruz's campaign provided this statement from the Senator in response:
"I have great respect for George W Bush, and was proud to work on his 2000 campaign and in his administration," Cruz said. "It's no surprise that President Bush is supporting his brother and attacking the candidates he believes pose a threat to his campaign. I have no intention of reciprocating. I met my wife Heidi working on his campaign, and so I will always be grateful to him."
According to Politico, donors who attended the event said Bush "emphasized that he's not going to be out on the campaign trail doing public events… He wants to be helpful and supportive like any brother would be. But he said, 'You're not going to see a lot of me.'"
Anna Pfaff works for the American Principles Project.