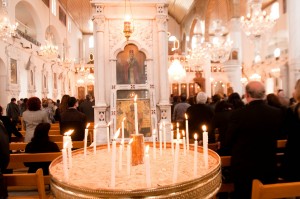 Barack Obama says it is un-American to have a religious test in our refugee policy. But as we have pointed out, American law already states that we must have a religious test in deciding whether a certain group is in danger and should be given sanctuary. Here's a quote right from the State Department's web site about U.S. refugee policy:
Under U.S. law, a refugee must have a well-founded fear of persecution based on one of the five 'protected grounds': Religion, Political opinion, Race, Nationality, Membership in a particular social group.
Notice the very first category of "protected grounds" — RELIGION!
Previous administrations have followed that rule for Soviet Jews, Catholics from Vietnam and Christians and Jews in Iran. It is Obama who is not reflecting America's values (or the law) when he insists that we should not have a religious test for refugees.
The reality in Syria and Iraq is that Christians and Yazidis are the most at risk of being murdered by ISIS. There is a genocide taking place and there is something deeply wrong with the refugee system now because only a miniscule percentage of Syrian Christians are being allowed in compared to Syrian Muslims.
Here's something else to consider. Muslim refugees have a lot of options — Turkey, Jordan, Lebanon, Egypt, Saudi Arabia, etc. Christians and Yazidis have no comparable haven in the Middle East. So again, priority ought to be given to Christians and Yazidis.
Instead of accepting the left's terms of the debate, I hope our friends in Congress start making these points and stop rushing to assure their critics that our proposals don't include preferences for Christians.
Gary L. Bauer served in President Ronald Reagan's administration for eight years, as Under Secretary of Education and as President Reagan's Chief Domestic Policy Advisor.