Google appears to be pulling a clever little prank on Donald Trump.
While shopping for everyone on my Christmas list, I took the time to google Donald Trump's new book, Crippled America: How to Make America Great Again. 
Look at what I found: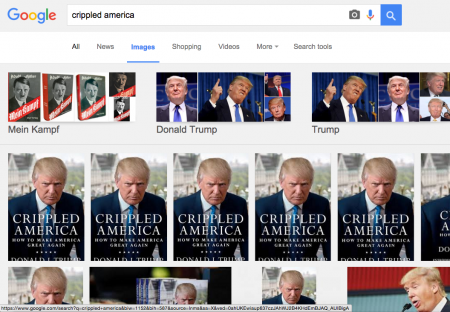 The top recommended search on Google Images is Mein Kampf, Adolf Hitler's 1925 Nazi manifesto. Say what you will about Donald Trump, but he is a candidate for President of the United States. Is this a conscious decision by Google? Or some clever gaming of Google's search algorithm?
Either way, it's pretty shocking. It has to be only a matter of time before @realDonaldTrump calls Google a loser.
Joshua Pinho is a Digital Communications Associate for the American Principles Project.