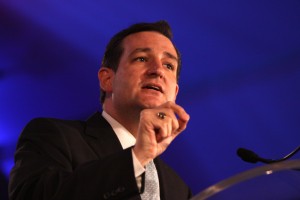 A piece today by Chris Cillizza in The Washington Post posits that, while Ted Cruz may not be the current Republican front runner, he's the candidate most likely to win the nomination.
He then lists four reasons why, and there's not a weak point among them.  To wit:
A Washington Post-ABC News November poll showed that Cruz's numbers are in the stratosphere with voters who identify themselves as "very" conservative; 69 percent had a favorable opinion of him while just 21 percent regarded Cruz in an unfavorable light.

In a Republican primary — particularly one in which the GOP electorate is mad as hell at everyone (including those in their own party) for an alleged lack of commitment to conservative principles — being the guy all the way on the ideological right is a very, very good thing.
His first point is that Cruz is emerging as not only the most conservative (with apologies to Rick Santorum), but also the most electable, although the numbers he cites in the Washington Post/ABC poll may be shaded by the fact they did not poll likely voters or even registered voters, but a random national sample of adults. So, a word of warning to the Cruz campaign, don't be writing the acceptance speech quite yet.
Point two is crucial to any Cruz success beyond Iowa:
2. Cruz has raised the second most money in the race.  Yes, Jeb Bush is far and away the fundraising leader in the race. Not only did we know that would be the case but we also now know that it has done him, roughly, zero good. But what most people didn't expect and/or don't know is that Cruz has raised the second-most cash among Republicans running in 2016.
Unlike Huckabee and Santorum, who have won Iowa before but didn't have the hard money to fuel that momentum, Cruz has the cash to make a sustained run. Huckabee in 2008 and Santorum in 2012 faded after their upstart victories, though Huckabee's thin donor base and impressive volunteer base carried him to a second place finish against the eventual nominee, John McCain. My sense is that Huckabee's gritty but cashless campaign was a warning to future conservatives coming out of Iowa to be prepared to battle the Establishment money machine. Cruz has.
His third point just became even more profound today after The FAMiLY Leader's Bob Vander Plaats, the most sought-after conservative endorsement in Iowa, gave the nod to Cruz:
Cruz is emerging rapidly as the favorite in Iowa's caucuses. A Monmouth University poll released this week showed Cruz taking the lead from Trump even as Ben Carson, a onetime Iowa front-runner, continued to collapse.
The fourth and final point Cillizza makes is that winning Iowa (and/or New Hampshire and South Carolina) is a prerequisite, but it is certainly not enough. He believes the primary states beyond the first tier favor Cruz, and given the shakeout that will inevitable occur among lower tier candidates without cash (Kasich, Huckabee, Graham, Santorum, Fiorina, et al), he may be right:
4. The calendar beyond the Big 3 favors Cruz. Winning one of the first three states is, almost certainly, the only way a candidate makes it to March. But, assuming Cruz is one of those candidates who makes it to March, the calendar starts to look very favorable to him. On March 1 is what's being referred to as the "SEC primary"; Alabama, Arkansas, Georgia, Tennessee and Texas will all vote on that first Tuesday in March…. Cruz's profile as a the one true constitutional conservative in the race coupled with his Southern roots and his fundraising might make for an attractive package for voters going to the polls that day.
The upshot of Cillizza's perspective on Cruz is that the gap is narrowing between the top four and all the others. Indeed, Carson and Rubio were noticeable by their absence in his calculus, and one could reasonably conclude that he sees Carson's fade as fatal, Rubio as beatable, and the race coming down to Trump and Cruz. We shall see.
Clint Cline is the president of Design4, a national media and messaging firm based in Florida.