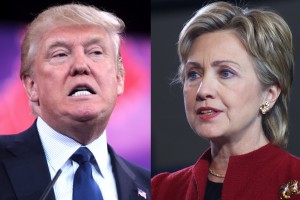 Well, the drought of polls from Christmas through New Year's is now over. The contours of the race are becoming clearer with just a few weeks to go before the February 1st Iowa caucus voting begins.
Ted Cruz leads in Iowa — but just barely — over Donald Trump. Two new polls show him up four points over Trump, with Marco Rubio a distant third, double digits behind. If the vote were today, it would be a question of turnout.  Cruz has demonstrated something important: even in the midst of a huge pile-on of attacks, he can stay focused, disciplined, and good-humored.
Rubio has broadened his attacks from solely Cruz, to Cruz and Chris Christie, perhaps recognizing New Hampshire is his best shot.
The latest polls show Trump up in New Hampshire by 16 to 20 points, with Rubio, Cruz, Christie, John Kasich and Jeb Bush all clustering in the low double digits.
Trump remains a strong front runner, with Cruz the most likely candidate to emerge as the Trump alternative, if he can pull out a win in Iowa.
Meanwhile, the political consulting class is going ape-doodoo, as their truce playbook for winning elections is being overturned by an angry electorate. Contrary to what the liberals claim, they are not angry at black people or Hispancis, but at politicians in Washington who ignore their interests and values and then try to spin their way to re-election. (Sixty-six percent of Cruz voters in Iowa, for example, feel betrayed by Republican politicians, according to the latest Fox News poll.)
Ignoring what voters in both parties are telling them about their profound disgust with the broken establishment that serves the wealthy crony capitalist interests while treating voters as savage beasts to be spun and soothed and frankly lied to (see the latest pro-Common Core education bill for the clearest example of Republican Washington lying to its base), the GOP consulting class pretends that they know who is electable, and it is not Trump or Cruz.
"Cruz would not only cost us the general, he would cost the GOP the future. Trump is not a Republican and he is not a conservative," Republican strategist Alex Castellanos told the Associated Press. "The geometry is conflicting: If you limit one, you aid the other."
"That feeling is echoed by party officials across the country, who acknowledged they have few tools to stop Cruz or Trump. Instead, there is hope that voters ultimately settle on what they consider a more viable alternative from a group of candidates that includes Florida Sen. Marco Rubio, New Jersey Gov. Chris Christie, former Florida Gov. Jeb Bush and Ohio Gov. John Kasich," reports the AP.
Meanwhile the latest Fox News poll shows that Trump would beat Hillary Clinton by 3 points and Cruz would beat her by 7 points if the election were held today.
And Trump has barely begun his thumping of Hillary. It's a long way to November.
But it is surely notable that while Republicans are pounding each other in the primary race, Hillary is beating herself into a pulp.
I think the Democrats are waking up to how very weak a candidate they have anointed to be their nominee.
There are many reasons to oppose Trump. Other than stopping illegal immigration, there is very little has promised to do, and I believe he is unlikely to revive the economy, since most of his business experience consists of masterfully manipulating branding and government incentives to make a huge profit for himself. He's a crony capitalist, playing well the hand he was dealt. I can respect it, but I see no signs he understands the fundamentals of restoring a growth economy that raises wages for the middle class.
But the idea that he cannot beat Hillary is a fantasy of political consultants whose playbook the frustrated American people have just burned to the ground.
Maggie Gallagher is a senior fellow at the American Principles Project.