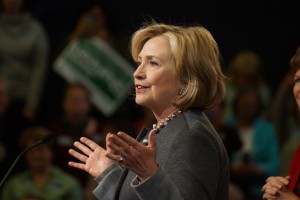 At a campaign rally hosted by Planned Parenthood over the weekend, Hillary Clinton said she would "always defend" and support funding for the organization, which is America's largest abortion business. She also called for an end to the Hyde Amendment, longstanding federal policy protecting taxpayer consciences by prohibiting taxpayer dollars from paying for abortion on demand.
That's right. She doesn't merely want to keep funding Planned Parenthood, Hillary Clinton has now argued that taxpayers have an obligation to pay for abortion at any time, for any reason.
This is the most dramatic pro-abortion position espoused by a leading political figure to date, and it changes the abortion debate. "Safe, legal, and rare," is clearly long gone.
Pro-choice down-ballot candidates should be asked if they agree with Hillary's extreme position – which is widely out of step with most Americans. Recent polling from CNN and Marist/Knights of Columbus found that as many as seven in ten are opposed to taxpayer funding of abortion, including young people and women – two constituencies Hillary is keen to win over. Key stats from the Knights of Columbus poll:
Millennials oppose taxpayer funding of abortion by 71 percent to 28 percent.
There is no difference in opinions on the issue between women and men. Women oppose taxpayer funding of abortion 69 percent to 28 percent, while men oppose it at a rate of 69 percent to 30 percent.
Among both men and women, fewer than one in 10 "strongly support" such funding.
DNC Chairwoman Debbie Wasserman Schultz was criticized last week by Democrats for suggesting "abortion rights" is not a big issue for millennials, but the poll numbers above and Hillary's outlandish position suggest the problem is even deeper.
If Mrs. Clinton wants to use this election to go to war against the longtime consensus keeping taxpayers out of the business of abortion on-demand, we welcome the opportunity to engage and expose her.
We are confident the American people will reject this level of extremism at the ballot box.
Marjorie Dannenfelser is the president of the Susan B. Anthony List, a national pro-life organization dedicated to electing leaders and advancing legislation to reduce and ultimately end abortion.