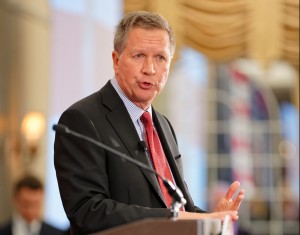 Has a new candidate just emerged from the scrum in the New Hampshire GOP primary field for second place? If the latest poll is any indication, John Kasich has shot to second place, with 20 percent of the vote in New Hampshire, which is now one of the most socially liberal GOP states in America.
While Donald Trump, Rand Paul, Marco Rubio and others keep pounding on Ted Cruz, Kasich just jumped to 20 percent in New Hampshire, just 7 points behind Trump, and 10 to 12 points ahead of Rubio (10 percent), Cruz (9 percent), Chris Christie (9 percent), and Jeb Bush (8 percent), all of whom are now involved in a new scrum for third place.
As of January 9, Kasich has spent $10 million for TV ads in New Hampshire, like this bio-ad: America, Never Give Up. Rubio has spent over $7 million; Christie, $9 million; Cruz and Trump, apparently nothing or close to that. (Cruz has spent $2 million, almost all of it in Iowa, and Trump has spent a total of $1.5 million.)
Bush has spent $23 million to get to his 8 percent in New Hampshire.
Maggie Gallagher is a senior fellow at the American Principles Project.