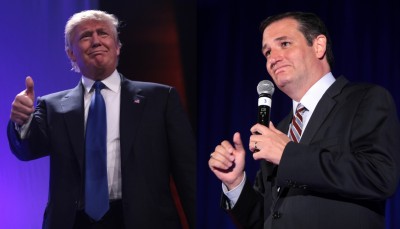 Maggie, on the heels of your posting the Trump Twitter-rage against Iowa pastor Bob Vander Plaats, then his pointed rebuttal, I thought to add a bit of information Mr. Trump probably hadn't considered when he let his hubris out of its cage only days before the Iowa Caucus.
There's an old adage in politics that you not attack anyone who buys ink by the barrel. In the digital age, that translates to not attacking someone with the heft to push out millions of impressions to the most influential voting block in the state in a short period of time. Like Bob Vander Plaats.
While Trump was Twittering, Vander Plaats was busy sending a very clear message to the evangelical faithful across the state: It Is Time. Using a stirring web video, radio spots, digital and social media ads, flyers and targeted print ads, the message to both Christian caucus veterans and first timers was clear:
In the hearts of Iowa Christians,
called to be salt and light,
each with a duty to walk worthy of our calling,
It is time.

It is time for the voice of the church
to help elect a president who will lead in Godly ways,
back to righteousness…and repentance…and healing.
At last count, the several week campaign — timed as voters are making up their minds — was approaching more than three million impressions, no small effort for an anticipated turnout of 150,000 caucus goers, a nearly 20 percent increase over 2012. Think of it as a million rebuttals for every one of Trump's tweets.
Politico cites the potential for a record turnout:
With the early Republican primary debates shattering all TV audience records — the first 2012 GOP primary debate drew 3.3 million viewers; the first 2016 debate had 24 million — there is a heated discussion among seasoned Iowa operatives about exactly how many of those who have tuned into the must-see reality TV series of the fall season will trudge through an cold winter night next February for a multi-hour caucus.

…"I don't see a scenario where we don't break the record," said Jeff Kauffman, chairman of the Republican Party of Iowa, citing the breadth of different candidates mobilizing different factions of the party. The only question he had: "How high we go?"

…"I think it's going to be epic. I think it's going to break all records. I would say 150,000," said Jamie Johnson, a former state GOP central committee member and former top adviser to Rick Perry. "I think we're going to not just break it but shatter it."
Vander Plaats has built and nurtured a wide network of Christian pastors and churches throughout Iowa. The message he is sending to fellow believers is neither Democrat nor Republican, but distinctly Christian:
It is time for the church to respond…
for America to be restored…
for Iowa Christians to honor God
by attending your Iowa Caucus on February first.

It is time for you…
to choose prayerfully and choose well.
In an otherwise dead heat between Mr. Trump and Senator Ted Cruz, an energized evangelical vote could deliver the race for Cruz and shape the near term Republican race. Michael Patrick Leahy confirms that potential in a recent Breitbart piece:
A recent Iowa poll, released on Tuesday by Quinnipiac, shows the overall race between Trump and Cruz is a virtual dead heat (Trump's 31 to 29 lead is within the poll's margin of error).

But among white evangelicals, who make up 57 percent of GOP caucus attendees, Cruz's lead over Trump is substantial – 39 percent to 27 percent.

In the Monmouth Poll of likely GOP caucus goers released on Wednesday, Trump leads Cruz 30 percent to 23 percent. Among evangelicals, however, Cruz leads Trump by 7 points, 32 percent to 25 percent.

Where Trump and Cruz stand among evangelicals matters because the candidate who wins with that influential group of caucus goers in Iowa is likely to emerge as the overall caucus winner.
Was the timing of Trump's Twitter-rage ill-timed with Vander Plaat's It Is Time message? We'll know Monday night.
Clint Cline is the president of Design4, a national media and messaging firm based in Florida.