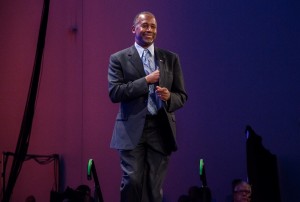 This evening at CPAC, Dr. Ben Carson officially suspended his — now quixotic — quest for the presidency, stating that he would be "leaving the campaign trail." Despite leading several national polls earlier in the cycle, Dr. Carson was unable to seize on his grassroots momentum and turned in a number of lackluster showings in the early voting states.
However, in spite these poor performances, Dr. Carson had time and time again committed to continuing his campaign. It would seem that a key aspect of his decision to finally bow out of the race is his new job. Carson will serve as the national chairman for My Faith Votes, a self-described non-partisan organization that "exists to inspire and motivate Jesus followers to vote."
With Carson's announcement, the field is down to just four candidates: Donald Trump, Ted Cruz, John Kasich, and Marco Rubio.
Joshua Pinho is a Digital Communications Associate for the American Principles Project.