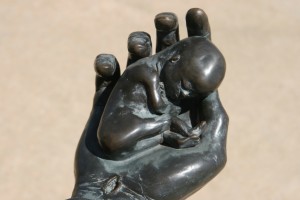 South Dakota just became the 16th state to stop abortion after five months — a point in pregnancy by which unborn children feel pain. State Senator Jenna Haggar, a longtime pro-life leader in the state and a stalwart member of the Susan B. Anthony List's National Pro-life Women's Caucus, was a lead author of the bill, which passed Monday and was a signed by Governor Daugaard late Thursday.
State Senator Haggar is in good company. Women legislators are responsible for a flurry of state-level activity to protect unborn children and their mothers from abortion. The efforts moving in at least six states prove that women are at the helm of the pro-life movement, despite the fact that the only woman in the presidential race, Hillary Clinton, this week doubled down on her support for abortion on-demand, up until the moment of birth.
Hillary's support for late-term abortion on demand and her opposition to regulations that would protect women from Gosnell-like abortion facilities that put profit ahead of the health and safety of patients puts her far outside the mainstream. A late-term abortion limit beginning at five months would save lives, protect mothers, and is enthusiastically supported by a majority of Americans, especially women. This legislation has passed the U.S. House twice, received majority bipartisan support in its first ever vote in the Senate, and has been passed by 16 states — possibly 17 by next week! Here's a look at the bold pro-life women taking charge at the state level:
Kentucky – State Rep. Addia Wuchner is sponsoring the state's limit on abortion after five months.
South Carolina – State Reps. Wendy Nanney and Donna Hicks shepherded the state's Pain-Capable Unborn Child Protection Act, which only needs a final vote in the State House before being sent to Governor Nikki Haley's desk.
Indiana – Pro-life women, including Senator Liz Brown and Rep. Peggy Mayfield, joined their co-authors to send a ground-breaking pro-life bill to the Governor's desk today banning abortions for discriminatory reasons (disability, race, sex, color, and national origin) and improving state law regarding fetal tissue disposal.
Missouri – State Rep. Diane Franklin co-chaired the legislative investigative committee on Planned Parenthood and is the author of a suite of four bills (five including one with a male co-author) to address the proper disposal of fetal tissue and other issues connected to the horrific undercover videos that exposed Planned Parenthood's fetal organ trade.
Florida – State Rep. Colleen Burton and Senator Kelli Stargel shepherded a pro-life omnibus bill to address fetal tissue disposal, licensing and inspection of abortion facilities and admitting privileges for abortionists. They also defunded Planned Parenthood in Florida appropriations bills.
The state legislators taking action nationwide are acting on the will of the pro-life grassroots. If Mrs. Clinton wants to use this election to go to war against common sense and compassionate pro-life measures — and go so far as to force taxpayers to fund abortions on-demand — we welcome the opportunity to engage and expose her. The American people will reject her extremism at the ballot box.
Marjorie Dannenfelser is the president of the Susan B. Anthony List, a national pro-life organization dedicated to electing leaders and advancing legislation to reduce and ultimately end abortion.