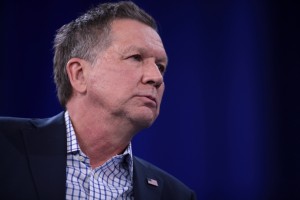 LifeSiteNews points out:
A simple search of Governor Kasich's 2016 Presidential campaign donations lists the Soros Fund Management as the sixth highest individual donor with $202,700. The seventh largest donor is the Duquesne Family Office with $150,000.  On the Super PAC side, Kasich's New Day for America received $150,000 from Stanley Drukenmiller (who operates the Duquesne Family Office) and $200,000 from Scott Beset, who is employed by the Soros Fund Management.

Scott Bessent served as George Soros' chief investment manager until late 2015, while Stanley Druckenmiller currently manages $2 billion of Soros' hedge funds. Clearly, these three names, George Soros, Scott Bessent, and Stanly Drukenmiller represent George Soros just as New Day for America and Kasich for America represent Governor John Kasich.

In total therefore, George Soros, personally and through surrogates, has donated over $700,000 to Governor John Kasich's campaign.
Soros is one of the largest donors to Planned Parenthood, has funded a campaign to repeal abortion laws in Ireland, and has given Hillary Clinton $8 million.
So LifeSiteNews asks the key question: "So why would this leading international advocate for a culture of death donate so much money to a GOP candidate who has been mathematically eliminated from the contest?"
Soros wrote an op-ed in a British newspaper lumping Donald Trump with Ted Cruz as a threat to the principles of an open society.
Is dividing the anti-Trump vote so Cruz cannot emerge as the nominee and beat Hillary Clinton the real goal here?
Maggie Gallagher is a senior fellow at the American Principles Project and can be followed on Twitter @MaggieGallaghe.