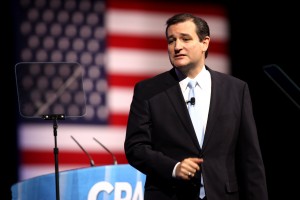 Just over a month ago in the first week of March, Donald Trump was at just 34 percent in the state of Maryland, while Ted Cruz was in striking distance in second with 25 percent and John Kasich had 18 percent.
Fast forward to the latest Monmouth poll in Maryland, which has Trump commanding 47 percent of the vote, with Kasich second at 27 percent and Cruz fading to just 19 percent.
Maryland is not the only state where this is happening: in mid-March, a Franklin and Marshall Pennsylvania poll had Trump with just a third of the vote, 3 points ahead of Kasich, with Cruz trailing at 20 percent. The latest Fox News Pennsylvania poll has Trump surging to 48 percent of the vote, with Cruz still stuck at 20 percent.
A new Emerson Connecticut poll has Trump at 50 percent, with Cruz at 17 percent.
This is a Cruz campaign in trouble: his message of beating Donald Trump appears to be backfiring with voters who want a candidate who stands for something and think Donald at least does that.
The Northeast was always better territory for Trump — a culture in which they do not mind their politicians brash, brassy and swaggering.
Still a month ago, Trump was hovering around a third of the vote. Now he is at 50 percent.
Cruz's message of "Trusted" was always narrowly focused on internal conservative politics, not outwardly focused on what electing him will do for the American people.
Take these numbers seriously, Ted, because you aren't going to be able to out-game your way to victory, even if you get the nomination, without speaking more clearly to the American people about our stumbling economy.
Maggie Gallagher is a senior fellow at the American Principles Project and can be followed on Twitter @MaggieGallaghe.