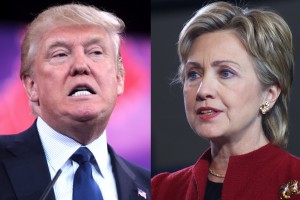 Despite all the talk of how badly Donald Trump would lose in a general election against Hillary Clinton, recent polling suggests it may not be as bad as originally thought.
Last week, a George Washington University Battleground poll showed Trump within the margin of error of Clinton, trailing the Democratic front runner by just 3 percent nationwide. And today, a poll from Rasmussen shows the two tied at 38 percent, albeit with an additional 22 percent saying they would either vote for some other candidate or stay home.
Interestingly, according to the Rasmussen poll, Clinton wins among those who earn less than $30,000 per year and (by a much larger margin) among those who earn more than $100,000, while Trump wins among the middle income levels. Trump also wins among people of every level of education, except for those who went to graduate school, where Clinton has a near 30-point advantage. And Trump pulls in 18 percent of the black vote, extraordinary for a Republican.
While Trump's overall general election polling numbers still don't look great, these new polls show Hillary could have a significant problem come November.
Danny Cannon works for the American Principles Project.