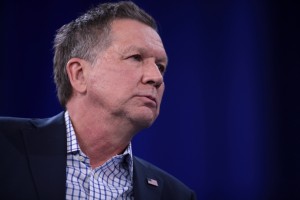 Last night, after finishing a distant third in the Indiana Primary, a defiant John Kasich appeared poised to continue his quest for the presidency, even as Ted Cruz ended his own. Despite his position far behind Donald Trump in the delegate count, Kasich's campaign released the following statement through John Weaver, their chief strategist:
Tonight's results are not going to alter Gov. Kasich's campaign plans. Our strategy has been and continues to be one that involves winning the nomination at an open convention. The comments from Trump, on the verge of winning in Indiana, heighten the differences between Governor Kasich and his positive, inclusive approach and the disrespectful ramblings from Donald Trump.
However, many outlets are now reporting that Kasich has cancelled a Washington, D.C., fundraiser and subsequent press conference at Dulles Airport in favor of a press conference in his home state of Ohio. These same outlets are also reporting that Kasich's Ohio press conference will be the end of the Governor's longshot bid for the GOP nomination.
Kasich's departure from the race removes the last potential, although highly unlikely, roadblock to Trump's nomination and will officially cement Trump as the GOP's presumptive nominee.
Joshua Pinho is a Digital Communications Associate for the American Principles Project. Follow him on Twitter @Josh_Pinho.