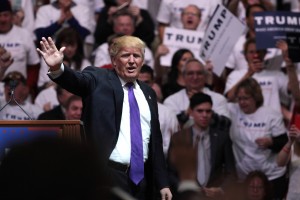 Much attention is being paid this election to the relatively small polling leads Donald Trump holds in many traditional Republican strongholds — states such as Texas, Utah, South Carolina, and Georgia to name a few. This led, especially during the summer, to speculation of a Hillary Clinton blow out, with both liberal pundits and staunch #NeverTrump'ers pushing the narrative that Clinton could be poised to flip many red states into the Democratic column.
What these pundits have ignored, however, is that while Trump's leads in red states have indeed been unusually small, he has also been running much more competitively in blue states where Republican candidates normally don't stand a chance.
Take the following states, for example:
Maine
Michigan
Nevada
New Jersey
Rhode Island
Wisconsin
So what does this all mean? As Trump moves into the high-40s and closes in on 50 percent in national polling, Republicans will find that they are competitive in states that no other recent GOP nominee — and probably no alternative candidate — would have had any hope of winning. So while Trump may end up winning red states by lower, but still sufficient, margins, the trade off is that he is putting states into play Republicans haven't won in decades.
That's a pretty fair trade off, I would say.
Frank Cannon is the president of American Principles Project.