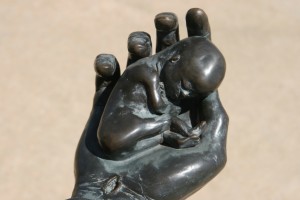 Planned Parenthood celebrated its 100th anniversary Sunday under a cloud of ongoing scandal. Just last week, the District Attorney of Orange County, California filed charges against two companies previously allied with Planned Parenthood — DaVinci Biosciences and DV Biologics — for illegally profiting from the sale of aborted babies' organs.
DaVinci Biosciences should sound familiar to anyone following Planned Parenthood's baby parts controversy. The medical director of Planned Parenthood Orange and San Bernadino Counties, Jennefer Russo, confirms their relationship in a Center for Medical Progress video released in March. Russo explains how DaVinci "take[s] the whole specimen" and reveals not only that the facilities she oversees manipulate babies into breech position to get intact organs, but do not use digoxin — making it likely that babies have been born alive. Planned Parenthood provided DaVinci Biosciences and DV Biologics with baby hearts, livers, brains, and more for eight years. DaVinci Biosciences also made donations to Planned Parenthood (see Planned Parenthood of Orange and San Bernadino County's annual report, page 10).
It is heartening to see the District Attorney prosecuting these companies, especially at a time when Planned Parenthood has joined forces with the state of California to censor its critics. However, Planned Parenthood — DaVinci's longtime partner and supplier — must be investigated, too. In the grisly fetal organ trade, the evidence leads back to Planned Parenthood, the nation's largest abortion business, or as StemExpress founder Cate Dyer put it: "a volume institution." There should be justice not only in abortion-friendly California, but across the nation.
As Planned Parenthood celebrated its centennial this weekend, the pro-life movement went on offense to counter its deceptions, shining a spotlight on this news and other evidence of the abortion chain's 100 years of abuse. Planned Parenthood founder Margaret Sanger believed in the elimination of certain people she considered "human weeds." In keeping with that cornerstone philosophy, today Planned Parenthood allegedly profits off the so-called weeds they are eliminating. That this corrupt organization receives half a billion dollars in taxpayer funding annually is outrageous, and must be stopped. All of this underscores the importance of keeping Hillary Clinton, who vowed that she would always have Planned Parenthood's back, out of the White House.
Marjorie Dannenfelser is the president of the Susan B. Anthony List, a national pro-life organization dedicated to electing leaders and advancing legislation to reduce and ultimately end abortion.