Antonia Hernandez, who sits on the Commission on Presidential Debates, is affiliated with two entities keen on securing a victory for Democratic presidential candidate Joe Biden: the Berggruen Institute, a think tank with ties to the Chinese Communist Party, and the staunchly Never Trump, George Soros-funded Transition Integrity Project.
Hernandez's position on the Board of Directors of the commission, which has selected a slew of anti-Trump moderators and pushed a debate via Zoom, is curious in light of her ties to the Biden-backing Chinese Communist Party and the Soros-backed Transition Integrity Project which calls for "street fights" to secure a Biden victory.
The highly partisan Transition Integrity Project was first exposed by The National Pulse in early August, after repeatedly making the false claim of non-partisanship, unchallenged by establishment media.
Hernandez's biography page on the Berggruen Institute site list her as part of the "Berggruen network," a network which also lists five fellows at Chinese Communist Party-funded universities and two members of the pro-China lobby group and Confucius Institute-sponsoring Asia Society.
And network member Ronnie Chan governs the controversial Chinese Communist Party-led China-United States Exchange Foundation (CUSEF), a controversial foundation registered as a foreign agent that targets American universities with donations often refused by schools often refused by institutions in light of these ties.
But this scratches the surface of the Chinese Communist Party's cozy relationship with the Berggruen Institute.
The Berggruen Institute hosts the Berggruen China Center and has funneled tens of millions of dollars into state-run universities such as Peking University.
The Berggruen Institute's China initiative lists a bevy of Chinese government-run entities as partners including the Beijing Academy of Artificial Intelligence, China Institute for Innovation and Development Strategy, Chinese Academy of Sciences, Chinese Academy of Social Sciences, and Chinese Association of Artificial Intelligence.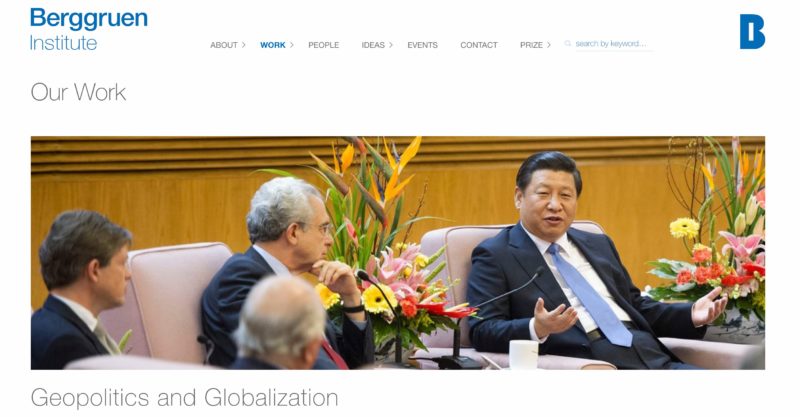 The institute's 21st Century Council, which aims to thwart "the anti-globalization backlash that brought nationalist and populist movements to power in major countries," also features the Director of Shanghai-based Chengwei Capital Eric Li, who penned a Foreign Policy op-ed entitled "Xi Jinping is a Good Emperor," extolling the brutal Chinese Communist Party leader while insisting "opportunism and shirking responsibility are not within Xi Jinping's character."
Another member is Fred Hu, whose bio states he "advised the Chinese government" on finance, currently sits on the Hong Kong Government's Strategic Development Committee and the Advisory Committee for the Hong Kong Securities and Futures Commission. Former Deputy Governor of state-run Bank of China Zhu Min and Zhang Lei also serve on the council.
Hernandez's ties to the center are also deep: she's served on the Berggruen Institute on Governance Think Long Committee for California alongside founder Nicolas Berggruen, the pair have worked with the Youth Policy Institute, and appeared on panels about "rebooting California's government" together.
The Berggruen Institute also retains links to the Transition Integrity Project through its co-founder Nils Gilman, who serves as Vice President of Programs at the Berggruen Institute where "he leads the Institute's research program, directs its resident fellowship program, and is also Deputy Editor of Noema Magazine" and has called for the execution of Trump administration officials.
The Soros-linked garnered national media attention for wargaming potential outcomes of the 2020 election with a host of establishment figures such as Hillary Clinton's 2016 campaign Chair and Obama-era Counselor John Podesta, Never Trump Republican National Committee (RNC) Head Michael Steele, and acting chair of the Democratic National Committee (DNC) Donna Brazile who leaked presidential debate questions to Clinton in 2016.
In one concerning iteration, Podesta, who acted as Biden, seized the presidency by "failing to concede as Mrs. Clinton had."