It's been a wild ride for all of us in 2020, and The National Pulse is no different.
Previously the in-house blog of the American Principles Project, Raheem Kassam took over The National Pulse in January 2020, immediately recruiting star reporter Natalie Winters and turning the outlet into one of the top conservative news and investigations sites in the Western world.
We want to thank YOU for all your support: your donations, your memberships, your shares, your clicks, and your prayers.
Here are the top stories, by page views, from The National Pulse in 2020:
A huge scoop from Natalie Winters just a few days ago, The National Pulse detailed from Foreign Agent Registration Act (FARA) filings the number of Western media organizations who have been targeted by Chinese propaganda operations, to some level of success.
Outlets such as CNN, ABC, the BBC, New York Times, Washington Post, LA Times, Bloomberg and a long list of others were offered private dinners and trips in exchange for "favorable" coverage. We actually have more to come on this story, very soon.
Another recent hit for The National Pulse was Peter Navarro's Immaculate Deception report which we broke before anyone else in news media.
The President's trade advisor went into detail in his now infamous report, showing how the alleged Biden "victory" in November was predicated on states abandoning their own election laws.
Sloan Rachmuth from Pen & Shield Media provided details for National Pulse readers on how the newly-relinked Ford Foundation donates millions to "defund the police" campaigns while their profitable namesake – Ford Motors – continues to profit by selling police cruisers.
The Ford Motor Company took umbrage at our reporting, claiming the two organizations are unrelated to each other. This was previously true, but we caught them in a lie and showed how the two organizations now share a board member in Henry Ford III. It's the first time the two organizations have established a formal link since 1976.
In April we rumbled a Chinese Communist Party-linked reporter in the White House, following her verbal altercation with President Trump.
Trump was lambasted by the media for asking "reporter" Youyou Wang if she worked for China and she claimed her company was "private." She lied.
As of 2018, Phoenix Satellite Holdings was owned by Liu Changle (37.1% of shares). Changle is a "former PLA propaganda official who is close to senior Chinese government leaders".
A further 20 percent of the company is owned by Extra Step Investments Limited, in turn owned by China Mobile Hong Kong, which itself is owned by the Chinese government-owned China Mobile.
Eight more percent of the company is owned by China Wise Investment Ltd, owned by the Bank of China.
This means at least 65 percent of the company is owned by the government of China.
We had warned in advance of the election that Fox News was pulling to the left and why. Post election, they proved it.
In fact, they did exactly what the Transition Integrity Project (another scoop of ours) wanted them to do: call everything for the Democrats, way too early.
No wonder their post-election viewership collapsed, and continues to.
We were the first to cover Project Veritas' James O'Keefe dialing into CNN's daily editorial call to let its Chief Executive Jeff Zucker know that they had been listening for over a month, and would be releasing audio over the course of December.
It was epic.
Yes, Kamala Harris's husband worked for a law firm which represented Chinese Communist Party interests. Funny how no corporate media outlet bothered to tell Americans that, isn't it?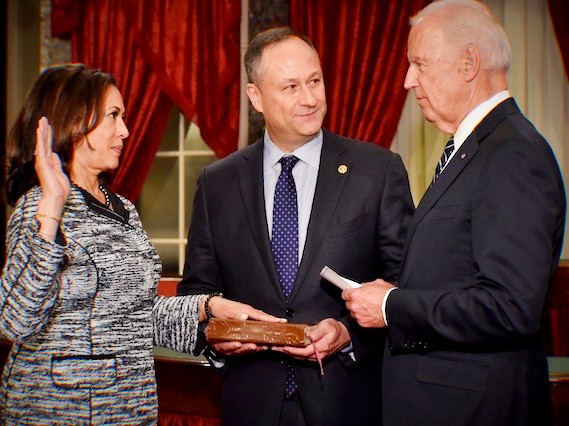 But we did. And it was a monster story in traffic terms. Over half a million people read Natalie Winters's report, which details the close links between DLA Piper and the Chinese Communist Party.
National Pulse editor-in-chief Raheem Kassam was the first person to commission and publish a tonne of statistical analysis in the aftermath of the election. Using this data and more, Steve Cortes from the Trump campaign put together our best read opinion/analysis piece of the year.
While no other media outlets would cover it, The National Pulse stepped forward to pick up on local news reporting that Christopher DeVries – organizer, and leader of a Black Lives Matter/Defund The Police – was arrested on six counts of possession of child sex abuse images.
At the time, prosecutor Michaela Andruzzi told a local judge DeVries was "very sophisticated" in the way he accessed the images and was "very successful" in hiding his activities from those around him.
"The clear and convincing evidence in this case is that the defendant has engaged in secret and disturbing behavior that puts the safety of some of society's most vulnerable people at risk," said Andruzzi. She added that the images were of young girls who would not be mistaken for adult women.
While the corporate media continued to pour cold water on Hunter Biden's Hard Drive From Hell – calling it "fake news" or "Russian disinformation" – we decided to get our hands on the drive for ourselves. What we found was explosive.
Over one million people read the story on The National Pulse, as we exclusively revealed audio from the drive proving Hunter's involvement with a man he called "the f*cking spy chief of China" and claimed his business partner had named his father Joe Biden as a witness in a criminal case.
Once again, thank you for your support. And Happy New Year.